British snowboarder Jamie Barrow on bid to break 100mph barrier
By Caroline Chapman
BBC Sport
Last updated on .From the section Winter Sports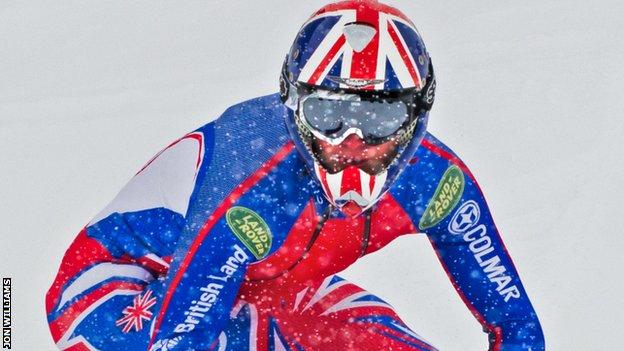 The sensation of hurtling downhill at 100mph while strapped to a piece of fibreboard is hard to put into words.
"It's like going down the motorway in a car and sticking your head out the window," British snowboarder Jamie Barrow told BBC Sport.
"The noise is quite overpowering from the wind coming around you. It sounds like a plane taking off."
And Barrow should know.
The former Bath University student has spent the last few months training for his attempt to set the British speed snowboarding record.
The world speed snowboard record is 201km/h (125mph) - set by Australian Darren Powell at Les Arcs, France in May 1999.
There is no official British record but the unofficial top speed currently stands at 132km/h (82mph), achieved by Barrow's coach, James Foster.
The reason why few people have attempted the record is simple: "They don't have a speed snowboarding competition because it's very dangerous and a couple of people have died trying it," he said, in his typical matter-of-fact manner.
The 20-year-old will make his bid to reach 100mph at the aptly named Speed Master ski event in Verbier, Switzerland on Friday or Saturday depending on weather conditions.
He has been granted permission to use the track after the main competition and is expecting four attempts on the slopes.
"The danger is part of the thrill. It's a calculated risk. I wouldn't be doing this if I didn't feel like I could make it. I know can," he continued.
"The speed track is the ideal situation. It's steep, long and smooth, and you don't have to worry about hitting into any people coming down the piste.
"But if you move one hand out it could tip you over. You've got to get your body positions right, so you're as streamline as possible so you get as least resistance as possible.
"I'll be over the moon if I can hit 160km/h (100mph) but anything above 140 or 150km/h I'll be happy with."
Barrow is based in Switzerland, where he grew up and first discovered his love for winter sports.
After starting out as a skier, he switched to snowboarding in his early teens and by the age of 15, he was competing in boardercross - a multi-rider downhill race featuring various obstacles; typically, for Barrow, a more dangerous form of the sport.
He was the British Junior Snowboard Cross champion from 2009 to 2011, but soon his focus moved from prizes to pace.
"I've always been a speed fanatic. I just want to do dangerous things," he continued.
"Boardercross is a fast sport to begin with, but I was always wondering how fast could I go?
"About two years ago there was a speed challenge at the British championship where you were given a GPS watch to track your speed. I realised I was quite good at going fast and I got up to 124km/h. That was on a piste, which isn't the safest.
"I went away to find out what options I had and how fast I could go."
This time last year he embarked on his first attempt at the British record, but bad weather thwarted his task.
This time round he has to deal with a back injury, but still remains bullish about his target.
"It's only 20 seconds of going down straight so I can put up with the pain. I've been working in the gym on my core and I'm confident it won't affect me," he said.
The same back injury has ended Barrow's hopes of making the Winter Olympics in Sochi in 2014.
For most sports people, this would be a major disappointment, if not a crisis.
But Barrow has an idea of how he will fill his time.
"I was looking through the Guinness World Record book and I reckon I could break the record for the fastest speed on a snowboard while being towed by a snowmobile. I'm going to try and do that next season," he said.
"I'm always trying to find different record to break and ideas of how I can push myself. When I think of a crazy idea, I want to do everything in my power to do it."