TJ Baldwin fears Winter Olympic funding shortfall
Last updated on .From the section Winter Sports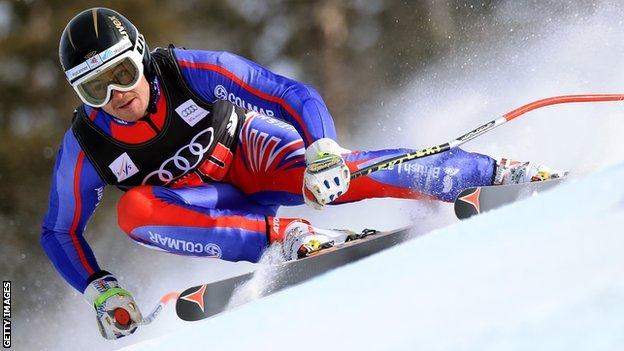 Top British alpine skier TJ Baldwin could miss the Winter Olympics through lack of funding, his father has warned.
The 22-year-old from Tharston does not receive financial support from the national governing body.
"He's needing to raise at least £35,000 this year. Probably more," Andrew Baldwin told BBC Radio Norfolk.
"He has to go all over the world to do his training, because you can't train in the UK. We're trying lots of ways to get the money."
Britain has never won an Olympic skiing medal, although Alain Baxter finished third in the 2002 slalom but had his medal taken away for failing a drugs test.
Baldwin was 2012 British champion in downhill, super-G, grand slalom, super combined and overall combined.
He is also Britain's highest ranked male in the world in super-G and super combined.
But a lack of success for British skiing at the Winter Olympics means British Skiing and Snowboarding received just £584,300 in the past 12 months, with only figure skating of the winter disciplines receiving a smaller amount.
"Because alpine skiing hasn't produced medals at the last Olympics and previous Olympics, they don't get the funding from UK Sport," added Baldwin's father.
"So they have to rely on private or corporate sponsorship and they haven't managed to achieve that.
"There's a shortage of money in the governing body and they've decided that the money they have got is put to other people."
Baldwin believes his son will be competitive at Sochi 2014, should he qualify.
"His chances of qualifying for 2014 are very good," he said.
"I'm not going to say he will win a medal, although we're hopeful. But a top 20 result is perfectly possible at the Olympics, which for alpine skiing will be really good."