Jamie Barrow sets British speed snowboarding record
By Caroline Chapman
BBC Sport
Last updated on .From the section Winter Sports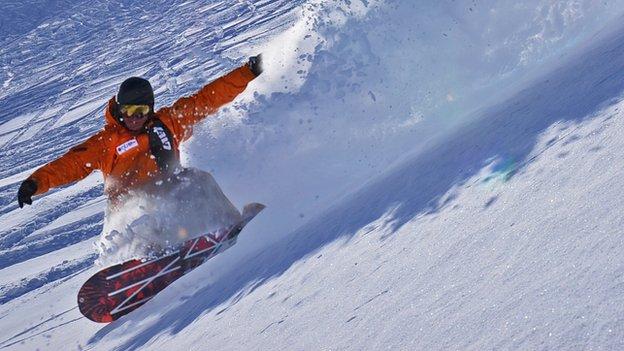 Jamie Barrow has set the British speed snowboarding record after reaching 94 mph in Verbier, Switzerland.
There was no official British record prior to the 20-year-old's attempts on Thursday, but the unofficial top speed was 82 mph - achieved by Barrow's coach, James Foster.
Bath-based Barrow fell short of his 100 mph target but told BBC Radio Bristol: "I'm so happy with the result.
"It was even a bit faster than I thought I would go."
The three-time British Junior Boardercross champion hoped to set the the British speed record last year, but was thwarted by the weather conditions.
And with the forecast for the weekend looking bleak, Barrow decided to begin his attempt a day early, with two chances to reach his target on Thursday.
"When you get to the top of the track, it's almost a vertical slope. You're looking straight down it and it's very scary," he said.
"You get butterflies in your stomach when you're at the top. You just have to grit your teeth, head the board down straight and hope you make it down to the bottom.
"You have to be crazy to do this sort of thing, but I love it and I can't even describe the adrenaline rush you get.
"My next goal is to beat the 100mph barrier."
Barrow hopes his achievement will encourage other competitors to try and go even faster.
"The whole point of this was so people would come and try and break it," he added.
"I encourage it because it's going to push me and it's going to push the whole sport."