Eve Muirhead focused on claiming curling gold in Sochi

By Keir Murray
BBC Sport Scotland
Last updated on .From the section Winter Sports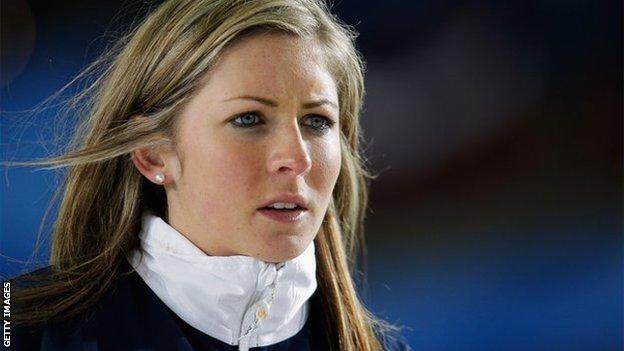 A holiday to North America and a trip to watch a Rihanna gig. Eve Muirhead has taken a break from the ice in recent weeks.
But with a trio of titles to defend and one golden target for the coming season, she and her team-mates were never likely to take it easy for long.
Muirhead, now 23, wants to win Olympic gold in Sochi and hopes to benefit from the experience she has gained in the three-and-a-half years since failing to make it out of the group stages of the Vancouver Olympics.
and winners of the - one of the sport's grand slams - Muirhead knows her team will be firmly in their rivals' sights when the Games begin in Sochi in February.
But it is an inspiration from the London Olympics which is proving a big motivator for Muirhead.
"Going into the Olympic Games as world champions and as one of the favourites will bring a lot of pressure," she told BBC Scotland.
"If I thought the pressure at the Vancouver Games was big, I think it will be twice as much in Sochi.
"But you've got to learn to deal with these things and take time to soak it up, then switch it off when you need to.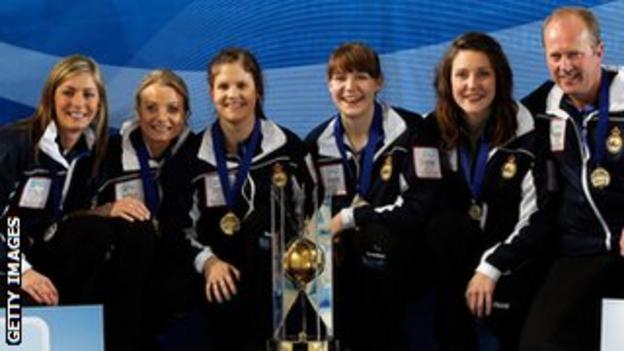 "Jessica Ennis-Hill is a total role model when it comes to that. I was lucky enough to be there in London to see her compete. I don't honestly know how she did it.
"Even when she went over to speak to her coach, that whole part of the stadium would go absolutely nuts. She learned to deal with it well.
"I didn't deal with it as well as I should have in Vancouver, but it was probably the best thing to have happened to me.
"I can learn from what happened and from previous championships and take it all on board."
It's worth noting that Muirhead was only 19 at the Games in British Columbia.
She speaks candidly about pressure, targets and fitness, but the overwhelming theme is one of pride in what she and her team-mates Anna Sloan, Vicki Adams and Claire Hamilton have achieved so far.
The same four women, plus Lauren Gray, won a marvellous treble last season and Muirhead, who thinks the quartet are "99.9% certain" to be representing Team GB in Russia, believes there is plenty more to come.
She said: "We were the first European team ever to win a grand slam event and also the first to win the World and then the Players' Championship, so that was pretty good.
"Teams who have won the World Championship never seem to do well in the Players' Championship.
"Last year probably went a lot better than expected. We won the European title, won the Scottish but didn't do so well at the Worlds. We thought it would be hard to top that.
"This year, even though we got silver at the Europeans, we are more than 10 times better than we were. All the little things - like our communication - have come on leaps and bounds.
"All of us put in so much work. I'm fortunate to have team-mates who are so committed to the sport. They would do anything for the team."
Muirhead could, with her medal prospects, become the poster girl for Team GB in Sochi, much like heptathlete Ennis-Hill was in London.
So how well prepared is she for the media attention that may come her way?
"We got a lot of attention at the Players' Championship," she said.
"Being world champions, and with curling being so big in Canada, you are one of the faces of the competition.
"There were certainly a lot of billboards up. Curling's bigger in Canada than it is here. Hopefully Britain will ramp it up when it comes closer to the Winter Games.
"In a way, I kind of enjoy the attention. I use it as a positive.
"Curling is not very big in Britain, but after winning the World Championships the press have started realising that we have a world-class team and a gold medal hope."
Muirhead and her team-mates have never played at the Sochi rink, though the skip is planning to visit it as part of her preparations.