Jamie Barrow: Snowboarder set for world indoor speed record
By Caroline Chapman
BBC West Sport
Last updated on .From the section Winter Sports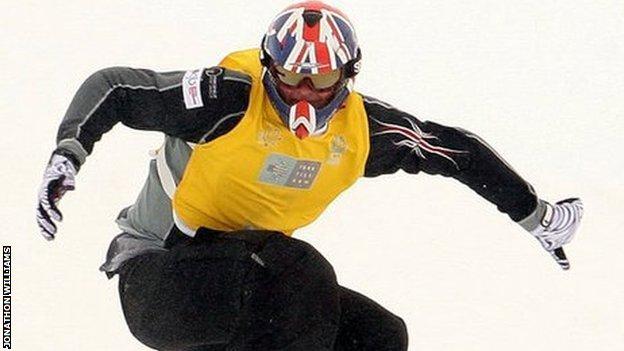 British snowboarder Jamie Barrow has set his sights on a world record after his 2014 Winter Olympics ambitions were thwarted by injury.
An ongoing back problem forced Barrow to drop out of competing for Team GB.
But the 21-year-old is now looking to set the first world indoor speed record on Sunday to add to the British outdoor record he achieved in April.
"The records came about after the injury, as I didn't want to have to give up," he told BBC West Sport.
"This injury is going to be with me for the rest of my life. I can't do some stuff in the gym or go running. I can't even do a full day of snowboarding any more without being in pain.
"I'm in pain doing these records, but it's about pushing through this and concentrating on what I want to achieve."
Bath-based Barrow will attempt his world indoor record at SnowWorld in Landgraaf, Netherlands, the world's largest indoor ski resort.
He is unlikely to reach the 94mph pace he clocked for the British outdoor record because of the physical restrictions of the walls surrounding the slope.
And because he is the first boarder to officially record his time, he is unable to predict what his top speed might be.
"Obviously people have been going down and tracking speeds, but no-one has officially done it with proper timing equipment.
"That's why I'm going along. I'm not going to potter down this slope - I'm really going to go for it.
"The skill in this is making the most of the length without hitting in to the wall at the end.
"I have no idea what speed I'm going to hit. I'm just interested to know what speed I can get and it's going to be a lot of fun trying to find out."
Barrow, who grew up in Switzerland, started out as a skier, but switched to snowboarding in his early teens.
By the age of 15, he was competing in boardercross - a multi-rider downhill race featuring various obstacles - and he was the British Junior Snowboard Cross champion from 2009 to 2011.
He had been training to compete at Sochi 2014 before his back problem forced him to quit competing, but Barrow has not let the injury affect his ambition.
"I do miss the competitive stuff, especially with how much effort I put in to come up through the ranks," he added.
"I may not be going to the Olympics, but I'm still pushing myself and challenging myself.
"The injury is always going to be there, so why let it get you down?"