Curling: Eve Muirhead 'gutted' she cannot defend world title

By Kheredine Idessane
BBC Scotland
Last updated on .From the section Winter Sports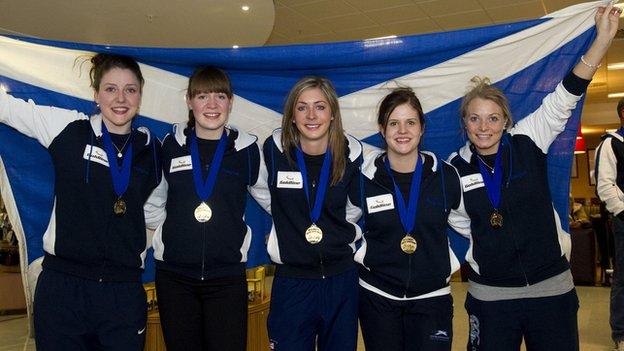 World champion Eve Muirhead is "gutted" she and her rink cannot defend their title next year because of a policy decision over participation.
The team which wins the Scottish Championships represents Scotland at world level but the Scottish finals overlap with the 2014 Winter Olympics.
Muirhead and her rink are certain to be picked for the Sochi Games.
And the Royal Caledonian Curling Club say Winter Olympians should not compete in the 2014 World Curling Championship.
Muirhead, along with Vicki Adams, Lauren Gray, Claire Hamilton and Anna Sloan,
And Muirhead told BBC Scotland: "We're gutted we won't get to defend our Scottish and world titles.
"We're the best rink in the country and it'll be hard to watch someone else take our title and then get the chance to go to the World Championship which we worked so hard to win last year.
"It's tough, and the Olympic team still hasn't been officially announced yet," she added.
"We trained so hard to win the national championship and the World Championship, and when you get told you can't try and retain it, it is tough."
Former president of the Royal Caledonian Curling Club, Robbie Scott, has called the decision not to move the Scottish Championship "shocking and embarrassing" for Scottish curling.
"It's an absolute disgrace to be honest with you," he told BBC Scotland.
"I don't think there's another sport in the world where they would deny their champions from trying to retain their title.
"I'd like to think we're one of the teams that are doing well out there and I'd like to carry that on.
And, when you have to take that year out, it's tough."
Scott says preventing Muirhead from defending her Scottish and world titles is "like telling Andy Murray he can't defend his Wimbledon title next year".
The decision concerning the participation of Winter Olympic athletes in the Scottish Championships was made in 2011, and further ratified by a Royal Caledonian Curling Club review earlier this year.
The review analysed the rationale behind the original policy decision made by the RCCC board.
And the review states: "The coaching team strongly recommend that the athletes who are selected for the 2014 Olympic Games do not compete in the 2014 World Championships.
"This is for three reasons:
To keep the athletes selected for Sochi totally focussed on that task.

To allow development/motivational opportunities for the athletes not selected for Sochi.

To allow the Royal Club, in particular, flexibility in the scheduling of the Scottish Championships."