Chemmy Alcott: GB skier re-breaks leg ahead of Winter Olympics
Last updated on .From the section Winter Sports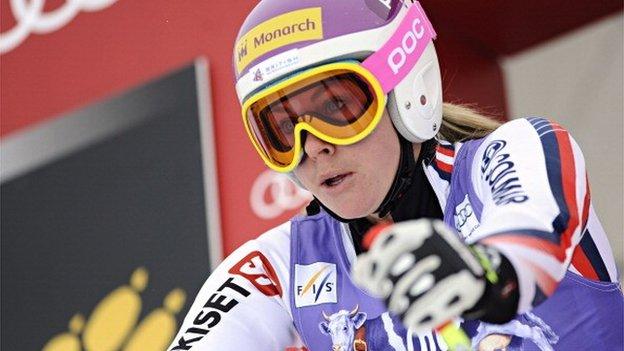 British alpine skier Chemmy Alcott has suffered a setback in her preparations for next year's Sochi Winter Olympics after re-breaking her leg in training.
She said she will miss the first races of the season but be fit for Sochi.
"Had a little whoopsie. Re-broken my leg. Clean, easy break. Already weight bearing," she wrote on Facebook.
"Medical opinion is I'll miss first races but be good to go full speed ahead after.
"Unfortunate setback but I am used to the adversity, just another chapter before the Hollywood finish in Sochi!"
Alcott, who has twice finished 11th at the Olympics and is targeting a top-eight finish in Russia in February, has been training with the Norwegian team ahead of the 2013-14 season.
She had been scheduled to compete with the Norwegians at World Cup events but will line up for Team GB at the Olympics.
Alcott lost her funding in 2010 after a decision by UK Sport to remove all support for alpine skiing in the build-up to Sochi 2014.