GB Short Track speed skating aiming for Olympic first in relay
By Nick Hope
BBC Olympic sports reporter
Last updated on .From the section Winter Sports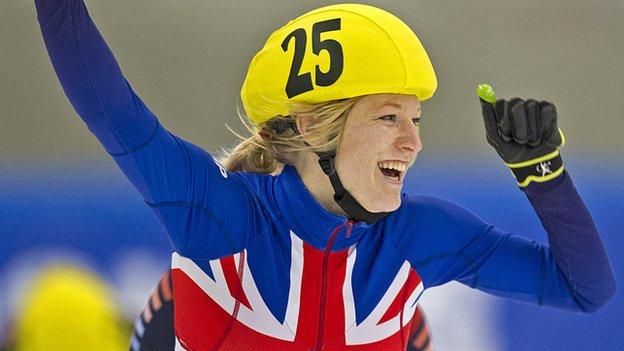 Great Britain Short Track speed skating hope to have their first-ever women's Olympic relay team at Sochi 2014.
Led by last season's World Cup champion Elise Christie, 23, four skaters have been selected for this year's squad.
The team will need to finish in the top eight at the end of the Olympic qualification period in November to secure their place in Russia.
GB hope attaining a women's 3,000m relay berth will boost Christie's prospects of individual success.
Only once since short track speed skating was officially introduced to the Olympic programme, in 1992, has a skater who was not part of a relay team won an individual medal.
That was Hwang Ok-Sil of North Korea, who claimed women's 500m bronze at the 1992 Games in Albertville, France.
"It's pretty hard to imagine an athlete winning a medal without a relay being there," GB Short Track performance director Stuart Horsepool told BBC Sport.
"Elise is so strong when she gets to the front, but she doesn't like the hustle and bustle and getting knocked around when she's further back. This year she needs to learn that there's more than one way to win.
"The relay is pretty much all about being pushed around so that will help her develop the skills that she needs."
Christie will be joined in the relay squad by European bronze medallist Charlotte Gilmartin, 23, Alex Stanley, 25, and 17-year-old Kathryn Thomson who finished second at the 2013 European Youth Olympic Winter Festival.
Following the British trials at the National Ice Centre in Nottingham at the weekend, Jack Whelbourne, 22, led the men's rankings.
He, Paul Stanley, 30, Richard Shoebridge, 28, and three-time Olympian Jon Eley, 29, will bid for places in the 500m, 1000m and 1500m events in Sochi, with Josh Cheetham, 20, the final member of the 5,000m relay team.
2012 Winter Youth Olympic medallists Jack Burrows and Aydin Djemal, as well as Anthony Cast - who are all 16 - will step up from the junior ranks this season and train alongside the seniors for the first time.
The senior squad's first World Cup event of the season will be in Shanghai, China, from 26-29 September with the Olympic qualifying competitions spread over two dates in November.
Combined scores which rank GB skaters in the top 32 after the events in Turin, Italy from 7-10 November and Kolomna, Russia, from 14-17 November, will see them qualify for individual events next year's Winter Olympics.