John Jackson in British Bobsleigh Olympic contention despite injury
By Nick Hope
BBC Olympic sports reporter
Last updated on .From the section Winter Sports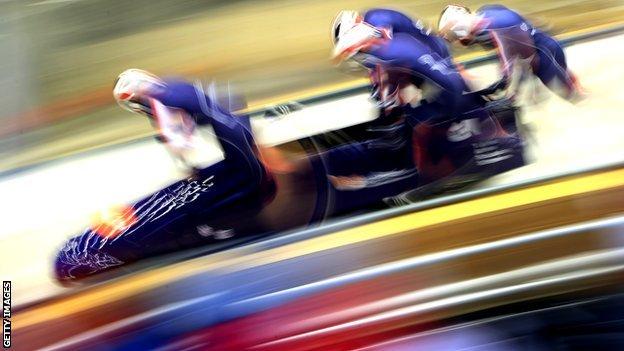 Injured bobsleigh pilot John Jackson has been named in the British squad for this season's Olympic qualification events.
"He's ahead of where he needs to be," said GB Bobsleigh performance director Gary Anderson.
"The doctors say there's no reason why he won't be fit for the first World Cup of the season."
The team will take to the ice for their first race of a crucial 2013-14 season, in Calgary, Canada on 26 November, with results between then and 19 January 2014 determining who will qualify for the Winter Olympics in Sochi.
Great Britain are targeting top-20 rankings for the men and top-14 in the global standings for the women's teams in order to endure they qualify the maximum number of sledges - two - for the Games, which begin on 7 February.
Following a weekend of intensive selection trials in Bath, Jackson is joined in the squad by fellow pilot Lamin Deen, whilst Jersey's Will Golder will provide back-up for their pair should either struggle with injuries.
Former British Olympic sprinter Craig Pickering remains in contention to make his Winter Games bow in Sochi after qualifying as one of 10 male brakemen.
Pickering finished 19th alongside Jackson in the two-man competition at the World Championships January of this year, but wants to step up to the four-man as well.
"He's totally in the mix with the top guys," said Anderson.
"It was always our strategy to use the two-man to help develop him and we knew results wouldn't be as good as they could be at the start, but this year we expect people to step up."
Despite a combination of hip, knee and back injuries leading GB women's pair Gillian Cooke and Paula Walker impressed in the trials and will be aiming to build on an encouraging 2012-13 campaign.
There is also a place in the squad for 2012 Winter Youth Olympic silver medallist Mica McNeil, who after spending much of last season on the second-tier Europa Cup circuit, will battle it out with Victoria Olaoye for a place in GBR 2.
"We know that we have medal chances," insisted Anderson.
"John and the four-man crew showed that [at the World Championships where they finished fifth] and we know there is more to come.
He added "We never ever write Paula Walker off either, we know what she's capable of achieving."
The squad will now head to Latvia for on-ice testing before an additional training camp in France, which will lead into their season-opener in Calgary, Canada.
WOMEN'S SQUAD:
Pilots: Paula Walker, Mica McNeill, Victoria Olaoye
Brakewomen squad: Rebekah Wilson, Sarah Adams, Gillian Cooke, Kelly Denyer, Lucy Onyeforo, Nikki McSweeney
MEN'S SQUAD:
Pilots: John Jackson, Lamin Deen
Brakeman squad: Bruce Tasker, Ben Simons, Stu Benson, Joel Fearon, Craig Pickering, Andrew Matthews, John Bains, Toby Olubi, Henry Nwume, Dave Coleman.