Speed skating: GB/Dutch partnership boost for long track speed skating
Last updated on .From the section Winter Sports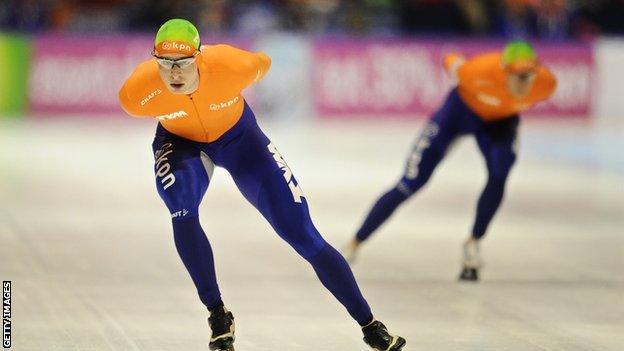 Long-track speed skating is hoping for a revival in Britain after a new partnership was set up between the National Ice Skating Association (Nisa) and the Dutch set-up.
But the long-track sport is contested on a 400m ice rink or "Grand Oval" which is not available in the UK.
The sport was first introduced by King James II in the 1700s.
Nisa hopes the partnership will strengthening its presence in the winter-sports world and help to ensure GB is represented across the full spectrum of ice sports.
Chief executive Nick Sellwood said: "We are excited about building a new partnership with the hugely successful Dutch long track skating scene. It represents a return to the close co-operation the two countries had in the sport throughout the 1800s.
"A large part of the training is also based on cycling, in-line skating and short-track.
"The cross-over potential with other sports such as cycling and gymnastics means that speed skating is a sport with great potential for the UK and we hope to be able to realise that potential and set the UK firmly back on the international scene."
Long-track speed skating is the fastest a human can propel themselves using only muscle power without assistance from machines or gravity.
Speeds of more than 30mph (48kmh) can be reached and the sport is popular in many countries including the Netherlands, Canada and Korea.