Winter Olympics: Elise Christie will not settle for Sochi bronze
By Anna Thompson
BBC Sport
Last updated on .From the section Winter Sports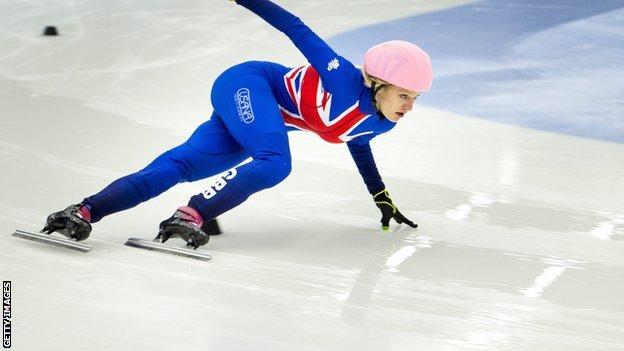 She had just become the first British woman to win a short-track speed skating medal at a World Championships - but instead of being elated, all Elise Christie felt was disappointment.
"In the race I held onto the bronze medal rather than challenging for a silver or gold," the Scot told BBC Sport.
"I was the first British woman to win a medal but immediately I regretted not going for it. I played it safe.
"I won't make the same mistake again. There is no doubt I will be giving my all in Sochi."
Having finished on the World Cup podium eight times last season, including claiming two golds, Christie is one of Britain's top medal hopes at the Winter Olympics in Russia in February.
And her season starts this weekend with the opening World Cup in Shanghai in China where she will race all disciplines - 500m, 1000m and 1500m.
She will also be part of the women's relay team as Great Britain aims to qualify in this event at a Winter Olympics for the first time.
Despite her successful season, the 23-year-old insists she is not complacent and will be working hard to improve.
"I'm starting this year with a lot of confidence because of my results last season," said Christie. "But I know this year will be a whole lot harder.
"I'm a perfectionist and I need to work on my weaknesses - which are my agility and race skills - and try a few different things.
"I'm going to have to put my ego aside in the early races and keep the Olympics goal in mind."
Christie is diminutive at 5ft 3ins and softly spoken with a mixed Scottish/Nottingham accent - but there is a steely determination in her eyes.
She was prepared to move from home in Livingston to the east Midlands when she was 15 in order to train full-time at the National Ice Centre in Nottingham.
Originally her ambition was to compete in a Winter Olympics and at the age of 19 in Vancouver she duly did, finishing 11th. It was then she re-evaluated her goals.
"I came back from Vancouver and said to myself: 'There's no point going to another Olympics and just being someone competing in it - the aim is to win'," she said.
"My mentality changed. I went out there and thought I've got to make them beat me now rather than trying to beat them."
Her trademark is to get a great start and use her strength to stay out of trouble at the front, but with skaters racing at speeds of up to 30mph any mistake is costly.
"That's why I need a plan B and plan C so I can cope with every scenario," she added.
This weekend, Christie will be joined by Alex Stanley, European bronze medallist Charlotte Gilmartin and promising youngster Kathryn Thomson in the 3000m relay team.
They will have two warm-up World Cup races before Olympic qualifiers in Torino and Kolomna in November, where Great Britain need to be ranked in the top eight to secure a starting berth in Sochi.
Stanley, sister of Jack Whelbourne and wife of Paul, both of whom are on the British team, said: "There is definitely an opportunity there, it is quite exciting to have a relay."