Sochi 2014: Can the Winter Olympics rival the X-Games?
By Nick Hope
BBC Olympic sports reporter
Last updated on .From the section Winter Sports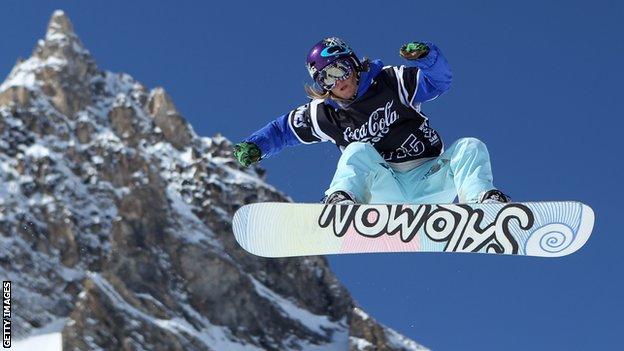 With an eye-watering estimate spend of over £30bn - twice that of London 2012 - the 2014 Sochi Winter Olympics aim to be the grandest Games of all time.
However, some freestyle skiing and snowboarding purists doubt it will manage to capture the magic of an X-Games.
The X-Games are traditionally the showcase event for extreme winter sports, with competitors invited to attend based on their profile - a stark contrast to the rigid qualification procedure for an Olympics.
The two competitions will go head-to-head in 2014 with slopestyle, one of the central X-Games events, making its Olympic bow.
For Great Britain, the 2011 decision to include the sport in the Winter Games was a huge boost.
Skiers James Woods and Katie Summerhayes, as well as snowboarders Jenny Jones and Billy Morgan, possess the potential to end Britain's wait for first Winter Olympic medal on snow.
However, opinion is divided on whether slopestyle should be an Olympic discpline.
"Some people didn't think it should be in there because it does take something away from slopestyle," three-time X-Games champion Jones told BBC Sport.
"It's [traditionally] free-spirited, like surfing, skating or BMX and when it gets involved with the Olympics then something else comes along - the whole thing becomes a lot more official."
Although cautious, Jones is pleased with slopestyle's inclusion and has extended her career in an attempt to reach the Sochi Games.
She ultimately feels the Olympics and the X-Games will be "on a par", but one of the world's leading male snowboarders, Ethan Morgan of Germany, thinks otherwise.
"The X-Games are so big, with the media coverage it's just ridiculous," he said. "So I don't think the Olympics is going to be as big as the X-Games has been and is right now."
Most athletes at both Winter and summer Games could see performing at these major events as crucial to the outcome of a career, but in freestyle skiing and snowboarding it is possible to earn a healthy income without ever competing.
Morgan and Austrian boarder Gigi Rüf feature in Nike's Never Not movie, one of a number of films in which the world's most extreme freestylers are paid to take part each year.
"It disturbs me sometimes that there are too many rules going on in competitions," said Rüf.
German Morgan added; "You get in trouble for a sticker that is on your board that has a sentence on it they think isn't too cool for TV, but that's the way that we are.
"That's why I don't like the contests as much as filming because there are no rules in filming."
To some, the X-Games strikes a balance between maximising the commercial potential for extreme sports without restricting the athletes' natural creativity.
However, following the death of Georgian luge athlete Nodar Kumaritashvili during the 2010 Vancouver Olympics and American snowmobiler Caleb Moore at the X-Games earlier this year, safety is under much greater scrutiny from the International Olympic Committee [IOC].
Freestyle athletes do not want to see that detract from the excitement generated by the jeopardy in their sport and the International Ski Federation [FIS] insist they have worked closely with Sochi Games organisers [SOCOG] to limit these concerns.
For Great Britain freestyle skiing head coach Pat Sharples, who believes his team can win a medal in Sochi, finding balance is key.
"As long as the IOC don't change our sport to fit it in around them then I think everything is absolutely fine," he said.
"I'm really pleased they haven't changed the rules and regulations of what tricks you're allowed to do because that would be a huge disaster for our sport."
British snowboarder Billy Morgan, currently ranked number two in the world, feels slopestyle's inclusion in the Olympics can only be a positive for the sport.
"Snowboarding is about creativity and making of it what you want but I don't think the sport has to change at all," he told BBC Sport.
"There's no reason why you can't have the X-Games and Olympics - some people may just change the way they train and ride to suit the competitions."
Olympic recognition has brought crucial funding to the British freestyle set-up, who have received around £1.3m from UK Sport in the build-up to Sochi.
For Sharples, this has had a more profound impact on the sport in this country than the X-Games ever could.
"I think now it gives more people a real chance of a career," he continued.
"With the X-Games it's a bit of a popularity competition - if your name fits or you're a bit movie star then you may be one of 20 to get an invite, but there are a lot of talented kids out there who the world don't know about.
"The Olympics is going to give them a chance to actually show their skills - everyone is upping their game this year because they want to be able to show what they can do."
The existing crop of talented slopestylers grew-up idolising their X-Games heroes, but with a predicted global audience of around three billion for next year's Olympics many expect that to change for future generations.
"The Olympics is huge, televised everywhere and, like we saw for London 2012, it brings a nation together," said GB snowboarder and X-Games competitor Aimee Fuller. "I really hope we can inspire in Sochi.
"The X-Games is an unreal experience and so far it has been the pinnacle of slopestyle but we do have the Olympics coming up and that's biggest event in the world so it's a hugely exciting time for the sport."