Sochi 2014: GB skaters Kemp and King face last qualifier
By Ollie Williams
BBC Olympic sports reporter
Last updated on .From the section Winter Sports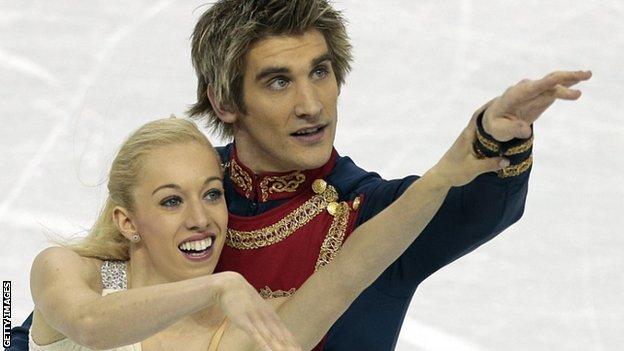 British pairs skaters Stacey Kemp and David King begin their final bid to qualify for the Sochi 2014 Winter Olympics in Germany on Thursday.
The duo, 16th at Vancouver 2010, must finish among the top four qualifying teams at the Nebelhorn Trophy, in Oberstdorf, to reach the Games.
"It's been everything. We've not been looking past it," King told BBC Sport.
"We've seen most of these teams before and know them well - we've just got to do what we've been doing."
Kemp and King narrowly missed automatic qualification for Sochi 2014 when they finished 15th at this year's World Championships in London, Canada, in March.
"It wasn't the end of the world. We've just got to go and do it in Oberstdorf," said Kemp, 24.
"We competed there four years ago, when we had already qualified for Vancouver 2010," added 28-year-old King.
"It was very intense. We were shocked at the level, teams had really stepped it up from the World Championships. So we know what it's like and we've done the same this year."
This season, the pair will skate to Tchaikovsky for their short programme - "a Russian composer for a Russian audience," explained Kemp - and a Beatles medley for their free skate.
"It's fun and exciting, and that gives us two ends of the spectrum," said King. "New programmes really help you grow as skaters and competitors.
"We want to break the top 10 at this Olympics. It's a goal we can achieve and that would be our highest finish at a world level.
"Speed will be key. We've got to be as fast as a top-10 team, have the confidence of a top-10 team and the execution too."
Other leading names in the hunt for Olympic places in Germany are Israeli duo Andrea Davidovich and Evgeni Krasnopolski and Japan's Narumi Takahashi and Ryuichi Kihara. Takahashi won a world bronze medal in 2012 but has since formed a new partnership with Kihara.
Skaters who have already qualified for the Games can compete alongside Olympic hopefuls, so Kemp and King need only finish among the top four pairs yet to qualify - not the top four overall.
Matthew Parr, 23, will skate for Britain in the men's event at the Nebelhorn Trophy, hoping to finish among the top six qualifiers and earn a berth in Sochi.
Should Kemp and King or Parr qualify, they will technically only reserve an Olympic place for Team GB and not in their own name - the British Olympic Association then officially awards the places at a later date. However, skaters who earn Olympic spots are almost certain to be awarded them.
The same applies to Jenna McCorkell, Penny Coomes and Nick Buckland, all of whom qualified for places at the Games at the World Championships earlier this year.
McCorkell is set to be named for Team GB in the women's event, with Coomes and Buckland in the ice dance category.
The pairs contest at the Nebelhorn Trophy begins on Thursday, 26 September and concludes a day later, with the men's event running from Friday until Saturday.