Sochi 2014: Stacey Kemp and David King earn GB a skating spot
Last updated on .From the section Winter Sports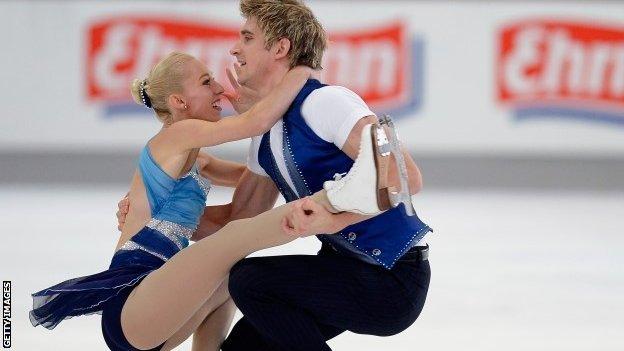 Pairs skaters Stacey Kemp and David King have earned Britain a place in the event at the 2014 Winter Olympics.
Kemp and King were seventh at the Nebelhorn Trophy in Germany, but were the leading pair who had not yet qualified for the Games.
Britain now has five figure skaters qualified: one in the women's event, one ice dance couple and one pairs duo.
The British Olympic Association will award places in the team for Sochi, Russia, at a later date.
However, the skaters who earn Olympic spots are almost certain to be awarded them.
Jenna McCorkell, Penny Coomes and Nick Buckland qualified GB for places at the Games at the World Championships earlier this year.
McCorkell is set to be named for Team GB in the women's event, with Coomes and Buckland in the ice dance category.
Matthew Parr is trying to qualify a men's place in Germany and needs to finish in the top six qualifiers, with his event due to finish on Saturday night.
Kemp, 24, and King, 28, were 16th at Vancouver 2010 and narrowly missed automatic qualification for Sochi 2014 when they finished 15th at this year's World Championships in London, Canada, in March.
They were seventh after day one - the best non-qualified pair with a score of 51.33 following their short programme - and kept up the momentum in the free skate where they scored 94.97 to remain in seventh.