Winter Olympics 2014: Gillian Cooke in battle for bobsleigh spot
By Nick Hope
BBC Olympic sports reporter
Last updated on .From the section Winter Sports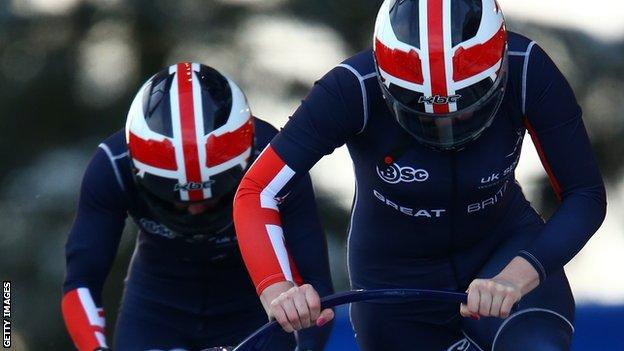 Former world champion Gillian Cooke faces a battle to reach her second Winter Olympics after being demoted from the lead Great Britain bobsleigh for the upcoming World Cup season.
Brakeman Cooke will compete in the third team with Victoria Olaoye.
Only two nations will be permitted three berths per event at the Olympics and Britain is not expected to be one.
Lead pilot Paula Walker will be joined by Rebekah Wilson for the season opener in Calgary from 26-30 November.
British Bobsleigh hopes to qualify two teams for both the men's and women's two-man events as well as the men's four-man competition at the Sochi Winter Olympics, which begin on 7 February 2014.
In order to do so, squads must be in the top 20 of the world rankings by the end of the Olympic qualification period on 19 January 2014.
Cooke won world gold with now retired GB pilot Nicola Minichiello in 2009, but the pair crashed out in their second run at the 2010 Vancouver Olympics.
She was on course for a first-ever World Cup podium with Walker in February this year before a crash in Altenberg, Germany disrupted their end-of-season campaign.
Cooke is also hoping to represent Scotland in the long jump at next year's Commonwealth Games in Glasgow and British Bobsleigh performance director Gary Anderson says qualifying for both is still possible.
"The door [for the Olympic squad] isn't closed to anyone. We'll be reassessing throughout the season," he told BBC Sport.
"Selection decisions are hard to make and some athletes will be disappointed, but this is the business end of the sport.
"We've made the selections is to give us the best possible chance of qualifying two bobsleighs in each event and then pushing for the medal zone [in Sochi]."
Wilson, 22, earned her place alongside the 27-year-old Walker - with whom she won world junior gold in 2011 - after impressing selectors during intensive physical tests over the summer.
"Rebekah has come in after taking a year out, dedicated herself to getting in the best physical condition and been brilliant throughout the summer," said Anderson.
Silver medallist from the 2012 Youth Olympics Mica McNeill, 20, is rewarded for an impressive debut season on the senior circuit and continued junior success by piloting GBR 2 with brakeman Kelly Denyer.
"She doesn't know how not to be on the podium and deserves this shot, but she and Victoria [Olaoye] are neck and neck," Anderson said.
Royal Marine sergeant John Jackson, 36, ruptured his Achilles in August but has since made a remarkable recovery and will push a bobsleigh on the ice for the first time since the injury in France next week.
"His application and dedication to recovery is world class and we know he's going to be ready [for the new season]," said Anderson.
Beijing Olympic sprinter Craig Pickering, 26, who joined the GB Bobsleigh setup in December 2012, finished 19th at the 2013 World Championships in the two-man event alongside Jackson.
However he has now achieved his aim of qualifying for the men's four-man squad.
"His application is faultless," said Anderson. "He analyses all opportunities to get top of the leader board."
"His attention to detail is incredible and so impressed with that young man.
Anderson added: "Bruce [Tasker] also used to be a runner [400m] and over the last three years has also really developed himself into one of the world's leading brakeman."
Pickering and Tasker will battle with Stu Benson and Joel Fearon for the three places behind pilot Jackson during the coming campaign.
Lamin Dean pilots GBR 2 which will consist of three brakeman from a four-strong squad including Toby Olubi, John Baines, Ben Simons and Andy Matthews.
The men's two-man squads will be selected based on form in the weeks leading up to each World Cup event.
GB SQUADS
Women's two-man
GBR 1: Paula Walker [pilot], Rebekah Wilson [brakeman]
GBR 2: Mica McNeill [pilot], Kelly Denyer [brakeman]
GBR 3: Victoria Olaoye [pilot], Gillian Cooke [brakeman]
Men's four-man
GBR 1: John Jackson [pilot], Bruce Tasker, Stu Benson, Craig Pickering, Joel Fearon [brakemen]
GBR 2: Lamin Deen [pilot], Toby Olubi, John Baines, Ben Simons, Andy Matthews [brakemen]
GBR 3: Will Golder [pilot], Henry Nwume, Dave Coleman, Jim Galvin, Brad Hall [brakemen]