Chemmy Alcott targets December comeback after fund-raising bid
By Nick Hope
BBC Olympic sports reporter
Last updated on .From the section Winter Sports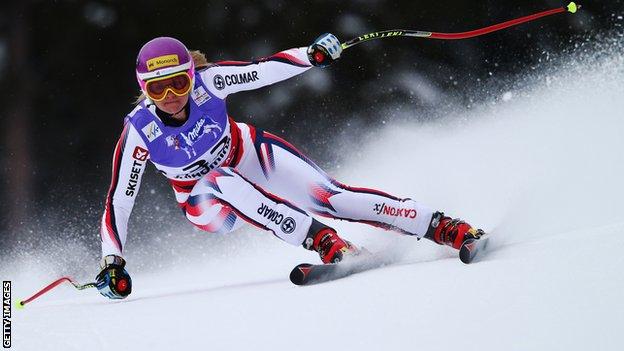 Olympic alpine skier Chemmy Alcott hopes to return to the slopes before the end of the year as she continues her recovery from a broken leg.
British alpine skiers are not supported by UK Sport and as a result Alcott has financed her own rehabilitation.
"It's been a rollercoaster," Alcott told BBC Sport.
"I've definitely had a few more lows than I've had ups but each injury I have and every time I come back it becomes easier."
Without UK Sport funding, Alcott admits she had to "beg and borrow" from family, friends and numerous companies to attain the support she has needed to return to full fitness and also continue in the sport.
On Wednesday night she and fellow alpine skier Dougie Crawford - who are to marry next summer - held a fundraising gala in London to help them towards the final £110,000 they believe they need to reach the Sochi Olympics in February 2014.
With the help of Olympic champions Amy Williams and Pete Reed as well as celebrities such as pop stars Heidi Range and Chico around £40,000 was raised.
That fund was helped significantly by generous donations for an auction which included a signed Andy Murray Team GB T-shirt, an autographed Status Quo guitar and an original Sopranos poster - signed by the late James Gandolfini.
"It wasn't easy selling tickets and it's certainly been character-building cold-calling so many companies but to get so many people on board has been incredible," said Alcott.
"I'm overwhelmed by the support of the Olympians who know what we are going through and proud they have supported us despite their own busy schedule."
Crawford, who will now be able to fund a "crucial" pre-Olympic training camp in Chile, added: "It was a worry for a while whether we would break even but the support has been incredible. We should now be able to make the key Olympic qualifying events later in the year."
Alcott's latest injury came whilst training with the Norwegian team two months ago, however after completing the last phase of her recovery she plans to go solo for the final phase into what she hopes will be her fourth Winter Olympics.
"It may just be training until Christmas and then back strong in the new year - I have to see how it pans out," admitted Alcott.
"I have a lot of experience to fall back on and I know I can perform quickly after returning from other injuries."
She added: "I'm not revealing my targets for Sochi yet, but I know I have learned so much from my experiences over the last four years and will be a strong skier for it."