British biathletes given stark funding warning
By Ollie Williams
BBC Winter Olympic sports reporter
Last updated on .From the section Winter Sports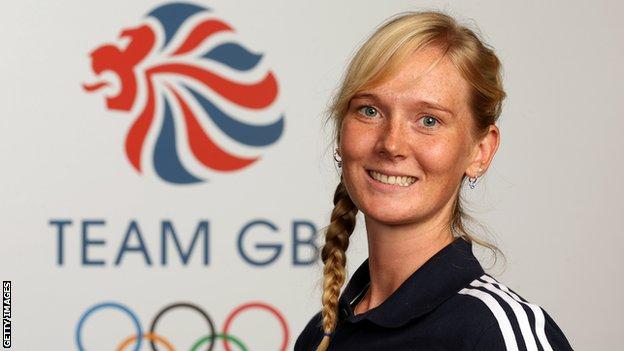 British biathlon's governing body says it "cannot function in its current form" beyond the Sochi Olympics and has no money for the 2014-15 season.
The British Biathlon Union (BBU) said it was considering options for the future and had briefed athletes and staff who are training in Norway.
It hopes to field one man and one woman in the Sochi biathlon, which involves shooting and cross-country skiing.
The sport says it has not been funded by UK Sport since before 2006.
Prior to that year's Winter Olympics in Turin, biathlon reported receiving a five-figure annual sum in Olympic solidarity development funding, but this was withdrawn after those Games.
Following a board meeting earlier this week, BBU chairman Andre Oszmann said: "It is with considerable regret that the board has concluded the British Biathlon Union cannot function in its current form beyond the end of this financial year.
"While there is a strong desire to continue to operate as a national governing body for biathlon, under the current circumstances the board cannot sanction any expenditure for the 2014-15 financial year, or provide any athlete governance, support or training from 30 April 2014.
"During the coming weeks the board will consider a number of options for the future, of both the BBU itself and our international representation post 30 April 2014."
The governing body says its financial difficulties will not affect GB biathletes in this Olympic season as they battle for the right to represent Team GB at February's Games in Sochi.
Lee Jackson and Kevin Kane are vying for the British men's berth, while Amanda Lightfoot (pictured above) is the top-ranked GB woman.
Jackson, Britain's leading biathlete of the past decade, finished 55th (men's sprint), 56th (men's pursuit) and 66th (men's individual) at the Vancouver 2010 Olympics.
The sport is dominated by the Scandinavian nations alongside Germany and Russia, accounting for eight of the 10 gold medals which were available in Vancouver .
The vast majority of the world's biathletes hail from the military. Both Jackson and Lightfoot serve in the British Army, for the Yorkshire Regiment and the Adjutant General's Corps respectively.