Jasmin Taylor takes on Telemark's Winter Olympic task
Last updated on .From the section Winter Sports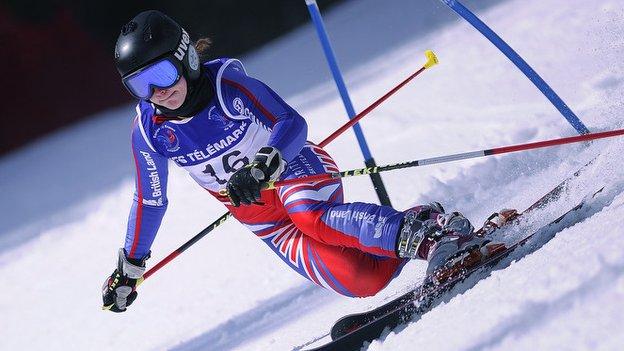 Britain's top Telemark skier Jasmin Taylor has said the UK needs to produce a winner of a big event in order to raise the discipline's profile.
Taylor, 20, GB's top-ranked woman in the 2013 World Cup, is campaigning for
"It's going to be a big deal I think if a Brit wins a World Cup event - like guys in freestyle and skeleton have done," she told BBC Sport.
"And I'd like to be one of those athletes of course."
- the first for a British lady in 19 years - and this year created positive headlines for their respective sports in the UK.
Freestyle and skeleton have Olympic status, something Ipswich's Taylor wants to achieve for her sport and, in the process, increase television exposure and sponsorship.
Telemark competitions consist of a giant slalom, a jump, a 360-degree turn and a slightly uphill cross-country skiing section. There are three disciplines, one including a dual downhill sprint, where two athletes race alongside each other.
Taylor said: "We're not as well funded as the summer sports so for somebody from Britain to win competitions makes people say 'wow, how did you manage that?'.
"People don't ask me where I finished in a World Cup, they say 'when will we see you on Ski Sunday?'.
"For me, getting on the TV is not necessarily important. But if sponsors know about it they will back you and you can continue to do the sport you love."
Taylor, who is still classed as a junior, was unable to defend her British title in January because of illness, but finished 11th in the senior ranks of the World Cup event and recorded three fifth-place finishes.
During the summer she works as a fitness trainer and in winter is based in Les Houches, Chamonix training with her coach, Seb Mansart.
And she is using her spare time to promote her sport and a petition to gain Olympic status.
"The goal is to get hundreds of thousands of signatures," said Taylor.
"It adds to our Olympic bid, which we're hoping will be introductory by 2018 and fully Olympic by 2022.
"It's actually never been Olympic, so it's never failed a bid. I think people will listen because it is so different."