Rowan Cheshire wins halfpipe gold in skiing World Cup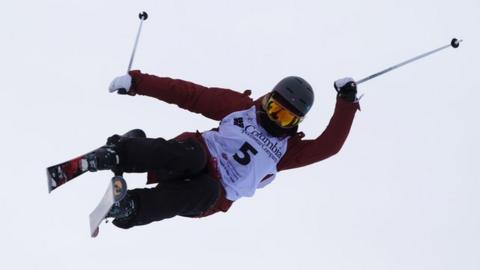 Rowan Cheshire has become the first British female skier to win halfpipe gold at a World Cup event with her victory in Calgary.
Cheshire, 18, secured her win in the third of four halfpipe Freestyle Skiing World Cup events this season, with a score of 80.40 from her first run.
Fellow Briton Emma Lonsdale finished with a career best tenth in Canada.
Jilly Curry was the last British woman to win gold at a World Cup event, in aerials in 1992.
Cheshire, who is from Stoke, won bronze at last season's World Junior Championships in Valmalenco.
She has met the Olympic qualifying standard for the Sochi Olympics.
But Cheshire, who is currently second, must remain in the top 24 of the International Ski Federation list and, along with Lonsdale, will learn whether she has a quota place when the team is announced on 22 January.
"Rowan has been performing incredibly in training for some time and we felt it was only a matter of time before the results started coming," coach Pat Sharples told BBC Sport.
"She's worked so hard to get to where she is and I feel the best is still yet to come."
The fourth and final halfpipe event of the Freestyle Skiing World Cup takes place at Northstar in the United States on 10 January.