Sochi 2014: Lizzy Yarnold building confidence for skeleton medal bid
Last updated on .From the section Winter Olympics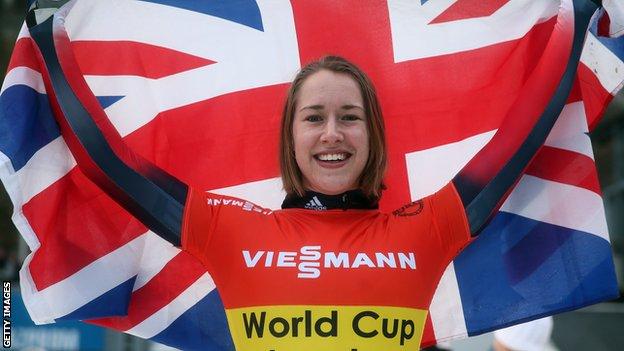 Great Britain skeleton racer Lizzy Yarnold says she is gaining confidence ahead of the Sochi Winter Olympics.
"Going from one podium to the next race-by-race is a confidence boost every time," she told BBC Radio Kent.
"To win medals and be on the podium you have to put everything into it. You can't do anything half-heartedly."
Yarnold won World Cup gold in Winterberg on Saturday, to add to first-place finishes in Calgary and Lake Placid earlier this season.
She has also taken silver in Park City and picked up bronze in Lake Placid in the other two World Cup meetings.
"This sport is quite like motor racing in that the more experience you have, the better you will be," she added.
"We're always improving equipment and our understanding of the tracks to try and be faster. I don't think there is a point where you can say 'this is the fastest you will ever be'.
"All the experience I gain - each race, each week and each session - plays a massive part in my future success."
Yarnold took up the skeleton at age 19 and, after becoming junior world champion in 2012, has been tipped by British Skeleton head coach Andi Schmid as a genuine medal contender for Sochi.
The Kent racer is looking to emulate 2010 Olympic champion Amy Williams and team-mate Shelley Rudman, the 2006 Olympic silver medallist who was crowned world champion last year.
"I think success breeds success," Yarnold said. "We've known that from Amy's and Shelley's amazing results in the past.
"Coming into the sport I had such high expectations and knew I could achieve in this sport with such a good team around me. All I needed to do is slide well.
"I don't feel much pressure as I am so excited about racing every time. I am totally focussed into it and it is almost like tunnel vision.
"I am not really in control of it. It is something I have practised so much over the last year that when I get on the start block and put the sled down into the groove and I start running, I am totally in the moment.
"I've got another three races until the end of the season. We've got two races in St Moritz and then Igls before the Olympic selection. I'm taking it week-by-week and race-by-race."
Yarnold returns to World Cup action at St Moritz in Switzerland this weekend.
"I had to put the track notes away for Winterberg and get out the book for St Moritz pretty quickly," she said.
"Racing every single week is more emotionally draining than physically draining.
"I'd love more rest but the ice isn't that long so we have to compete while it is cold and back-to-back.
"Regardless of whether I have competed well or not, I am quite good at resetting and coming to a new track with a new mindset and looking to do my best.
"This year has been especially good and I've been really successful so far.
"St Moritz is the only natural track in the world and where the sport of skeleton originated. The Brits originated it with the Cresta Run and there is so much romance and history.
"It's a pleasure to compete there, sliding on really smooth ice and getting up to speeds of about 135kph.
"Every race I go into, I'm not thinking about the colour of the medal or where I finish. I'm just hoping to do my best.
"It is a tough sport where we compete not only against each other but against the weather and track conditions. I just focus on myself."