Richard Parks: South Pole conqueror plans new expeditions
Last updated on .From the section Winter Sports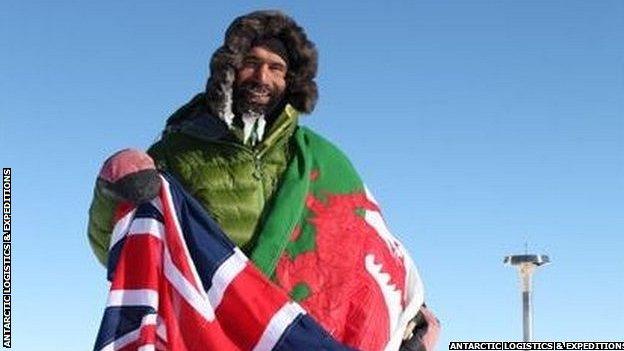 Days after breaking records for skiing solo and unsupported to the South Pole, former Wales and Leeds Tykes forward Richard Parks has new plans in mind.
Speaking from the Antarctic, the 36-year-old told BBC Radio Leeds he already had ideas for other expeditions.
But Parks, a keen cyclist, said first he was looking forward to watching the Tour de France in Yorkshire.
"I'm absolutely exhausted, physically, mentally and emotionally, and need some time to breathe and reflect."
Parks skied the 715 miles (1,150km) from the Antarctic coastline to the Pole in just under 30 days, taking ten days off the existing British record.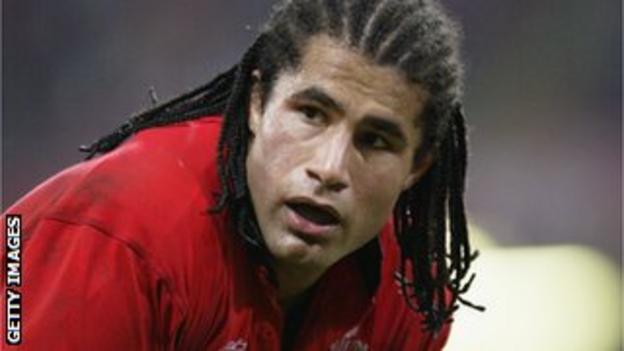 The Welshman, who also played for Pontypridd, Newport Gwent Dragons and Perpignan, made four appearances for his country before injury forced him to retire in 2009.
Initially he found it very hard to adjust from being a full-time athlete - and suffered from what he describes as "a mixture of frustration, despair and even anger".
"I was deeply depressed," he explained. "It was a dark place for me, but then I read Sir Ranulph Fiennes' book 'Mad, Bad and Dangerous to Know', which somehow became intertwined with a phrase from my Nana's funeral, 'The horizon is only the limit of our sight'."
As a result he decided to take on the "7-3-7" challenge, climbing the highest mountain on each of the world's continents except Australia - the Seven Summits - and venture the last degrees to The South and Geographical North Poles within seven months, raising funds for Marie Curie Cancer Care.
Parks successfully completed the "7-3-7" in 2010/11, but he told Radio Leeds his latest challenge had required immense self-discipline.
"It's a really strange place that I went to, mentally," he continued. "My existence was so disciplined and regimented, with the hours I skied and when I ate, when I drank, everything was controlled by the watch and I tried really hard to focus on the moment, on the block of skiing, on that day.
"It wasn't until the last few days when I was within touching distance of the Pole that I allowed my mind to wander and start to consider what I'd actually achieved.
"It's such a unique psychology, it's such a personal place you go to in these extreme feats of mental and physical endurance. Everyone reacts and copes differently.
"I'm absolutely shattered, I pushed myself to the limit physically, but maybe more so mentally, and when I got to the Pole there was just so many emotions bouncing around."
But skiing solo and unsupported meant Parks had to cope with more than exhaustion.
"I was on my own for the full 29 days, so any problems, and I had a few - I broke my ski four or five days before the end - I had to fashion a repair," he said.
"That personally is the challenge that really inspires me, to be self-sufficient in such an extreme environment.
"Almost every day I battled and wrestled some negative internal dialogue or unhelpful emotion. The first week, just after I started, was really challenging because I got hit by quite a significant snowfall, and soft snow isn't conducive to moving fast and efficiently, and after three days I had to make the really difficult decision to abandon and go back to the starting point and wait two days for the snow to stop and harden a little.
"That was really difficult, but ultimately it was the right decision.
"As to what next, I'd be lying if I said I didn't have ideas and plans for other expeditions. But at the moment I'm really looking forward to getting home and spending time with friends and family in Yorkshire and Wales, because I didn't plan to be away over the Festive period.
"I'm just going to take time to breath it in and reflect. I'm writing a book at the moment, and the expedition forms the final third of that, so a lot of my work will be home-based - and as a keen cyclist I'm super-excited to see the Tour de France in Yorkshire."