Mike Basich: Snowboard pioneer who built his own resort

By Ed Leigh
Ski Sunday Presenter
Last updated on .From the section Winter Sports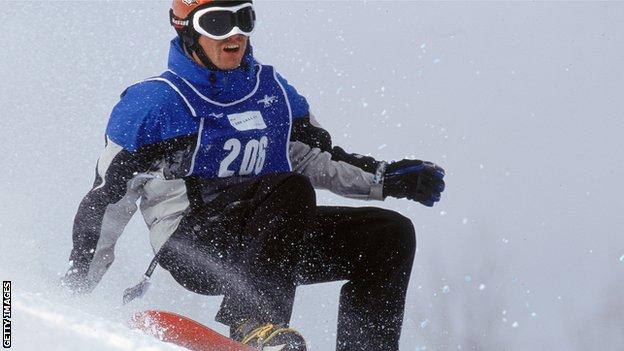 If snowboarding were chemistry then Mike Basich would be an element.
Along with his sister Tina, Basich was at the epicentre of snowboarding's first and biggest eruption of popularity in the early 1990s and he has been omnipresent ever since, which in a sport with a fickle obsession with progression is an astounding feat.
For this reason I have always wanted to interview Basich and a chance meeting at Innsbruck airport in Austria last year became the perfect opportunity to set something up.
Basich had come to ride at the 20th anniversary of the legendary Air and Style contest in Innsbruck.
As a previous winner he is part of one of the most exclusive clubs in snowboarding and, along with his X Games performances, this tells anyone with little knowledge of the sport that Basich is one of the most talented riders ever to strap into a snowboard.
Fast forward and I am driving through the back woods of Tahoe in California trying to decipher a hastily written set of directions for a dirt road. I'd come to meet the 41-year-old on his home turf, which in his case is a 40-acre plot high in the Sierra Nevada Mountains above the old railroad town of Truckee.
Over the last seven years, Basich has devoted his life to developing this cascading alpine bowl into his very own personal ski resort and it is truly a work of genius.
Mainly because he managed to do it all for less than the cost of your average family home in the UK.
But to look at the financial cost of this endeavour alone is to do Basich a great disservice. Although he was incredibly resourceful and called in a lot of favours, it is his incredible determination that has been the real driving force behind making this dream a reality.
There is an element of Grand Designs to the feature we shot with Basich because his cabin is so spectacular.
I have never seen a hand made house before and it was impossible to grasp just how much work went into building this dwelling that sits at over 1500 metres above sea level, at the end of a dirt road that from November to April is covered in up to four metres of snow.
He had to move 175 tons of rock by hand and he told us that "paid labourers, usually big college football kids would give up after four or five hours.
"But people who knew what I wanted to build and shared my passion for this dream and would work all day for free." You can scoff all you want at these hippy ideals, but the proof is there for all to see.
The ornate window frames with mountain ranges ground into them, the 12 volt solar panel that powers all the LED lights and the under floor wood burner that heats the house and hot tub, it is a stunning triumph of vision and passion.
There were of course tribulations and set backs during the four year construction of the house that would have broken lesser men and I asked Basich if he ever got so frustrated to the point that he thought about jacking it all in or breaking down and crying.
He just fixed me with a smile and said "sorry to disappoint you Ed, but I just never felt that way, if I had a problem I would just sit down and wait it out until a solution came to me."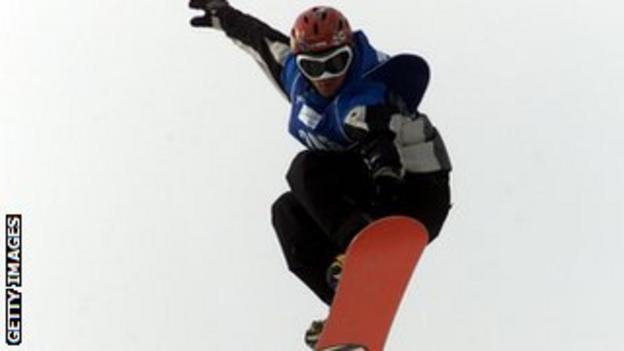 He pointed out the stone steps as we made our way down from the house, everyone who had helped build the cabin had carved a message into a stone and then laid it into the path, all of the messages came from the heart except one beautifully wry one near the bottom that simply said 'That was easy'
After completing that four-year project you could have forgiven Basich for taking a break. He didn't, instead he built a rope tow, soon after that he invested in a full size piste basher to help him groom access tracks.
Then soon after one of the local resorts was scrapping an old chair lift and they offered Basich the frames and gearbox. If the house had been a challenge then the chair lift was the equivalent of a fight to the death.
He had to build a road to the site where each support tower would stand, he had to track down one of the few guys in America who could splice steel cable and then he had to pluck up the courage to ride it himself.
You'll see the footage in the feature and it is obvious what the completion of the lift means to Basich, there's a maniacal laugh of triumph followed by a grin that could convince anyone that a passion like snowboarding is as close as we'll ever get to the fountain of youth.
I'm not normally nervous about features, but Basich is one of the most interesting and inspirational people I've ever met and to that end I am worried that this feature can't possibly do him justice.
What I hope it does do though is inspire others to follow their dreams, because with results like this it's easy to see that it's worth it.