Sochi 2014: Zoe Gillings withdraws from X Games after fall
Last updated on .From the section Winter Sports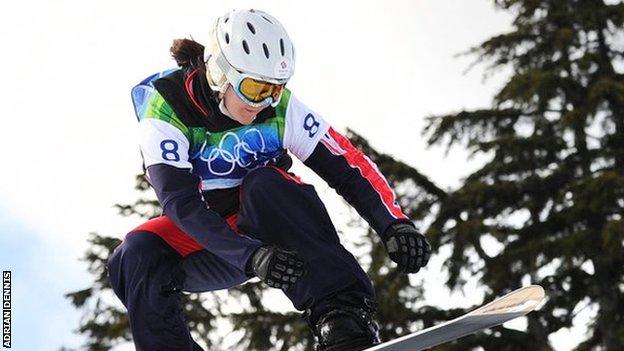 British snowboarder Zoe Gillings has withdrawn from the Winter X Games boarder cross finals after a "heavy fall" in training on Thursday.
The Isle of Man athlete, 28, who is in the Team GB squad for Sochi 2014, had qualified 10th for the finals.
"It was a heavy fall and I'm not 100% - so I have decided it's best not to race. I'm not taking any risks ahead of the Olympics," she said.
Dominique Maltais qualified quickest, followed by Lindsey Jacobellis.
Gillings added: "All will be fine. I hit my head pretty hard but my decision is more precautionary than anything else.
"I don't want to risk anything where my head is concerned - I've already hit it a few times over the years so I am not worried."
This week it was announced that Gillings had been selected to compete in her .
Four years ago she finished eighth at the Vancouver Games despite a painful knee injury in her semi-final.
Gillings missed out on the final, and a potential medal opportunity, by just one place.
She competed at her first Games at the age of 20 when it was held in Turin in 2006, finishing 15th.
Team GB squad
Alpine skiing: David Ryding, Chemmy Alcott Biathlon: Lee Jackson, Amanda Lightfoot Bobsleigh: Stuart Benson, John Jackson, John Baines, Ben Simons, Joel Fearon, Bruce Tasker, Craig Pickering, Lamin Deen, Paula Walker, Rebekah Wilson Cross country skiing: Andrew Young, Andrew Musgrave, Callum Smith, Rosamund Musgrave Curling: David Murdoch, Tom Brewster, Greg Drummond, Michael Goodfellow, Scott Andrews, Claire Hamilton, Eve Muirhead, Anna Sloan, Vicki Adams, Lauren Gray Figure skating: David King, Nick Buckland, Matthew Parr, Jenna McCorkell, Penny Coomes, Stacey Kemp Freestyle skiing: Murray Buchan, James Woods, James Machon, Emma Lonsdale, Katie Summerhayes, Rowan Cheshire Short track speed skating: Jon Eley, Richard Shoebridge, Jack Whelbourne, Elise Christie, Charlotte Gilmartin Skeleton: Lizzy Yarnold, Shelley Rudman, Kristan Bromley. Dominic Parsons Snowboarding: Ben Kilner, Billy Morgan, Dom Harington, Jamie Nicholls, Zoe Gillings, Jenny Jones, Aimee Fuller