World Curling Championships: Scots face fierce Canadian crowd
By Andrew Southwick
BBC Scotland
Last updated on .From the section Winter Sports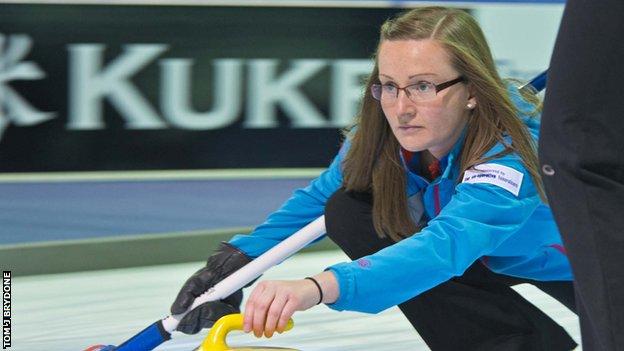 New-look Scotland say they will not be fazed by facing a 6,600 sell-out crowd when they take on hosts Canada at the World Curling Championships.
Team Barr will attempt to replicate last year's winners Team Muirhead when the tournament begins on Saturday.
They face a daunting prospect on Tuesday, with the vital match against favourites Canada already sold out.
Skip Kerry Barr said: "The game against Canada will be crucial, and it's always a bit of a derby."
It is an unfamiliar team that have made the trip, with Eve Muirhead's Olympic bronze-winning side unable to defend their trophy after competing in Sochi at the same time as the World Championship qualifiers.
However, the team of Kerry Barr, Barbara McPake, Rachael Simms and Rhiann Macleod have worked for two years to get to this stage, and after pulling off a shock in the qualifying tournament they are hopeful of doing it again.
"We may not be expected to medal as it's our first worlds together," said Barr. "But if we have a strong week anything can happen and we can push for the play-offs.
"Canada are not the same team as they were at the Olympics, but they were bronze medallists at the worlds last year and are a very good team.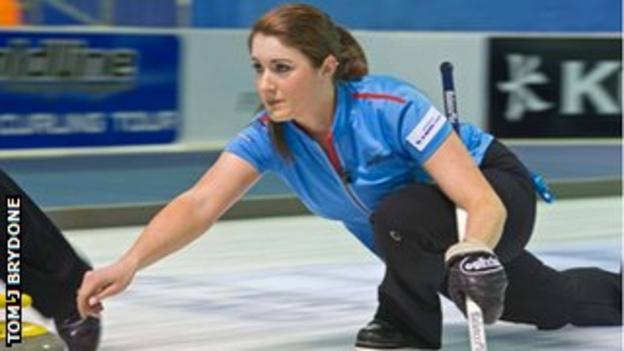 "They are always going to be a strong team and the home crowd will no doubt be in full voice, but we will play our best to hopefully have a positive outcome against them.
"There are a lot of strong teams - Sweden and Russia will be tough.
"What Team Muirhead and Team Murdoch have achieved at the Olympics was fantastic for the sport. We're a very different team. The only pressure we have is the pressure we put on ourselves.
"We played against Eve in the Scottish mixed Championships and she wished us well. A couple of the other girls have also been in contact to wish us luck."
Hannah Fleming and her team were strongly fancied to be the side representing Scottish interests in Saint John, but 'lead' McPake says the girls are used to upsetting the form book.
"Fleming has been runner-up in the Scottish ladies three times previously, so I would expect they were favourites to win this year," she said.
"We beat them in our first round robin game and had another two very good games against them before the final, so we were quite confident going into the final as we knew we could win it.
"We have all competed at world juniors so know the format. We have played against most of the teams previously at other competitions.
"Our head coach Rhona Howie has a lot of experience with these championships and has a lot of useful information on these teams as well.
"We have heard our game against Canada is a sell out. We know there will be a lot of people cheering against us but the Canadians also appreciate good play so we hope to give them a good game.
"These teams haven't played us as a team before so may not know how we play."