Speed skating: Men's relay claim Worlds bronze, Christie fourth
Last updated on .From the section Winter Sports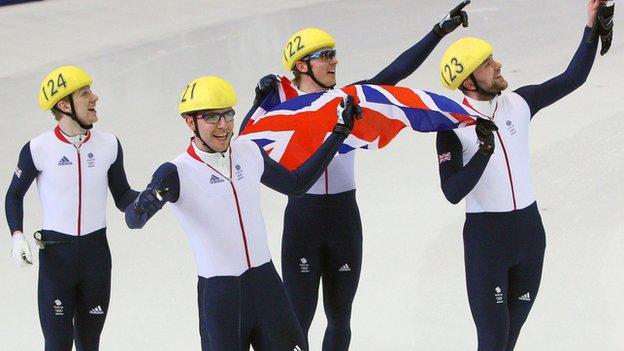 Great Britain claimed bronze in the men's 5,000m relay at the World Short Track Speed Skating Championships.
Jon Eley, Paul Stanley, Jack Whelbourne and Richard Shoebridge, finished less than 0.1 seconds behind winners Netherlands in Montreal, Canada.
Whelbourne overtook to take the lead on last lap before falling and crossing the line on his bottom.
It was the first British medal for male skaters at a World Championships since 2008.
"I tried my hardest on that last bend and I thought I had the gold," Whelbourne said.
"I went past all three of them in the last quarter of a lap, but there was a bit of argy-bargy and I went down.
"But I'm pretty happy to finish the season on the podium, especially after a bit of back luck in my individual events here. We definitely showed everyone that we are one of the best teams in the world."
Meanwhile, Elise Christie was fourth in the 1,000m final as South Korean Shim Suk-Hee added to her 1500m title.
Christie, 23, who claimed 500m silver on Saturday, also finished seventh in the 3,000m superfinal.
The Scot, who was fifth in the 1500m on Friday, was penalised in all three of her events at the Winter Olympics in Sochi.
In the 1,000m, Charlotte Gilmartin reached the quarter-finals, while in the men's event, Whelbourne and Shoebridge failed to advance beyond the 1,000m heats.