Chemmy Alcott: Great Britain skier announces retirement
Last updated on .From the section Winter Sports
Four-time Team GB Olympic alpine skier Chemmy Alcott has announced that she will retire from racing after the 2014 British Alpine Championships.
Alcott recorded five top-10 World Cup finishes and is the only Briton to have won a run in a World Cup race.
The 31-year-old finished in 19th place in the women's downhill at the 2014 Winter Olympics in Sochi in February.
Alcott said: "It is with a heavy heart that I announce my retirement from ski racing, a sport that defines me."
The British Alpine Championships take place between 29 March and 7 April in Meribel, France.
"I am not retiring from skiing and believe that I still have much to offer the sport," said Alcott, who is marrying British downhill racer Dougie Crawford in July.
Alcott has been Britain's most successful alpine skier and was the first and only Briton to win a run in a World Cup race in the giant slalom at Soelden in Austria in 2008.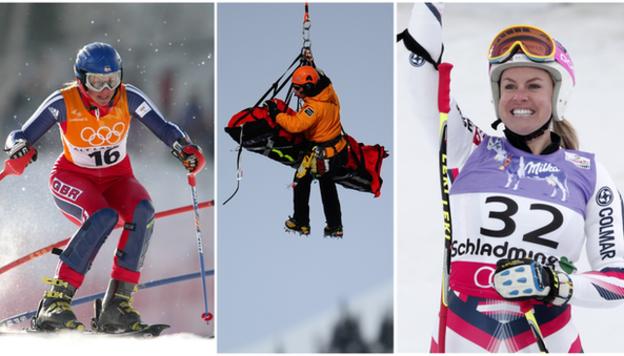 Her other career highlights include finishing 11th in the Winter Olympics at Turin in 2006, and again in Vancouver four years later.
She has also won the downhill at the Senior British National Championships a record seven times.
Alcott has been dubbed the 'bionic woman' after a horrific double fracture in late 2010 left her needing a metal plate inserted into her right leg, while a further break hampered her comeback bid in August 2013.
She added: "I am incredibly proud that I have had the guts and mental strength to overcome the odds and compete for my country."
British alpine skiers are not supported by UK Sport so Alcott had to finance her own rehabilitation.
Without UK Sport funding, Alcott admits she had to "beg and borrow" from family, friends and numerous companies to attain the support she needed to return to full fitness and continue in the sport.