Chemmy Alcott: Briton wins final Super G title before retirement
Last updated on .From the section Winter Sports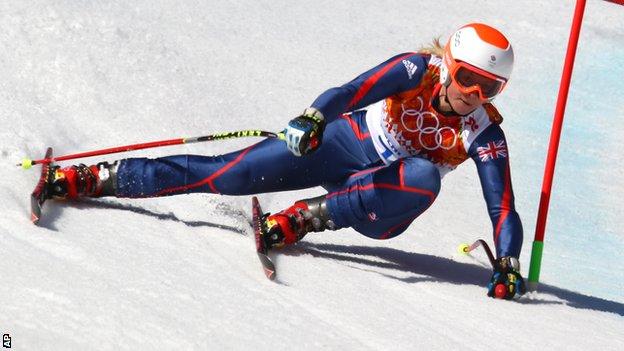 Chemmy Alcott won her final Super G title before retirement as she finished top of the podium at the British National Championships in France.
The four-time Olympian finished in one minute 23.91 seconds at Meribel - two seconds ahead of Cara Brown and four clear of Honor Clissold.
Alcott, who fought back from a second broken leg last summer, announced her decision to retire last week.
The 31-year-old's fiance, Dougie Crawford, won the men's Super G title.
Alcott, who finished 19th in the downhill at the Sochi Winter Olympics, said: "I just wanted to come through the finish line with a smile on my face.
"The last few weeks have been tough with my leg - I am not in my best shape of the year - but I would have been disappointed if I didn't win.
"It was really, really great to win and on what was a tough course."