John Jackson: GB bobsleigh pilot suffers Achilles injury relapse
By Nick Hope
BBC Olympic sports reporter
Last updated on .From the section Winter Sports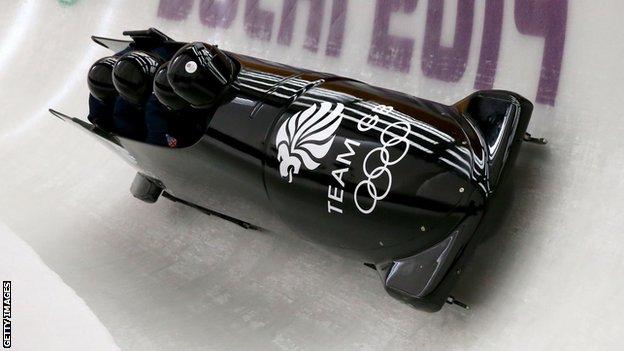 Olympic bobsleigh pilot John Jackson will miss the start of the World Cup season in December after suffering a 'complication' to an old injury.
Jackson, 37, ruptured his Achilles in July last year, but astounded medical experts by recovering in time to compete in February's Winter Olympics.
However, a 'stress response' relating to the initial treatment has now developed on his right heel.
"Unfortunately back on crutches for potentially six weeks," he tweeted.
The two-time Olympian underwent pioneering surgery to repair the ruptured Achilles in August 2013.
How Jackson's pioneering surgery worked
Traditional Achilles operations attempt to directly repair the torn tendon by suturing the two damaged ends and allowing nature to take its course
The new technique does not attempt to repair the tendon directly but anchors a "very strong rope-like material" above the tear which is then pinned to the heel
The "rope" effectively replaces the living tissue and over time allows the tendon to reform around the new structure
Although it was hoped the treatment would solve the problem, physicians admitted at the time that they did not know what the long-term impact of the treatment would be.
Jackson guided GBR 1 to fifth place at the Sochi Winter Olympics earlier this year and was granted two years' leave from his role with the Royal Marines in order to continue his career in the sport.
"If we want him to compete at the World Championships in March he has to have a period of treatment and rest before we go into the season," GB performance director Gary Anderson told BBC Sport.
"Jacko is an incredible athlete, but we need to look at how we manage this in the future."
Olympic brakeman Joel Fearon is currently suffering from a back injury and is also likely to also miss the start of the season.
However Lamin Deen - who piloted GBR 2 to 19th position at the Sochi Winter Olympics - is expected to recover from his groin problem and lead the team at the season-opening World Cup event in Lake Placid, New York.
Youth Olympian Oliver Biddulph as well as Sochi athletes Bruce Tasker and Ben Simons - who have undergone pilot training over the summer - will be in contention for the other World Cup berth.