Bobsleigh gives approval to mixed-gender teams
Last updated on .From the section Winter Sports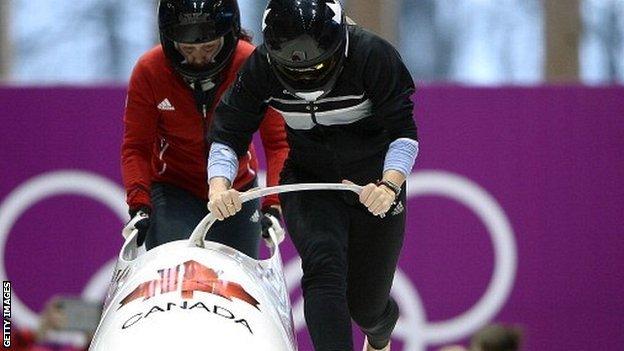 Men and women can now compete together in the 'four-man' bobsleigh after the sport's governing body announced it will allow mixed-gender teams.
FIBT president Ivo Ferriani said: "We follow the spirit of our time. There's a strong belief that men and women can compete together in four-man."
Mixed teams can take part in FIBT events from this season onwards.
They include the Europa Cup Series, North American Cup Series, as well as the World Cup Series and World Championships.
Qualification criteria for the 2018 Winter Olympics in South Korea were still under discussion and yet to be finalised.
Two-time Olympic gold medallist Kaillie Humphries has already said she wants to pilot a four-man bobsleigh, pushed by three male team-mates, this season.
Britain's bobsleigh pilot Will Golder, 25, described the rule change as exciting.
"Some of the best drivers in the world are women," the Jersey athlete told BBC Sport.
Britain's performance director Gary Anderson said: "It's an obvious and natural progression from the FIBT and as a federation we welcome and support this rule change.
"It can only do good for the sport. How this will now evolve remains to be seen, but hopefully we may see a new Olympic discipline in the future."
Women are not allowed to compete as a team of four at the Winter Olympics, although last week the FIBT did agree to allow demonstration races at this season's US trials, North America Cup races and the World Championships.