Jenny Jones says Britain can win freestyle medals at 2018 Olympics
Last updated on .From the section Winter Sports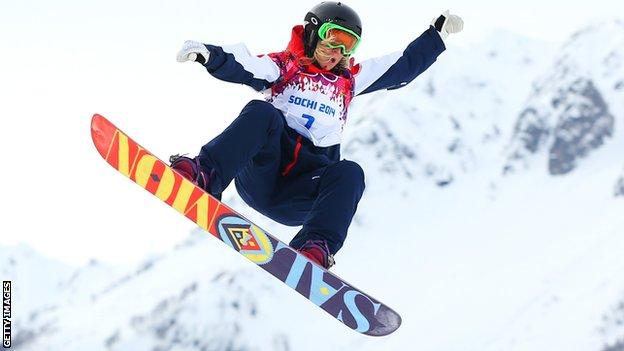 Jenny Jones' Extreme
Date:
Thursday, 23 October
Time:
21:00-22:00 BST
Coverage:
Live on BBC Radio 5 live
Britain has the talent to shine in freestyle winter sports at future Olympics, snowboarder Jenny Jones says.
"We have such strength in depth that I believe we have the talent to challenge for medals in Pyeongchang in 2018 and beyond," she told BBC Sport.
Slopestyle, where skiers or riders tackle a course of rails, kickers and jumps, made a popular debut in Russia.
"Katie Ormerod, who just missed out on qualifying for Sochi, over the summer became the first woman to do a trick called a double cork 1080 and Rowan Coultas and Matt McCormick are names to look out for," Jones added.
"When you add in all the youngsters who have been inspired to try it at ski centres all over the country because of what they saw in Sochi, the future looks very bright. I've been blown away by how engrossed people have got with the sport."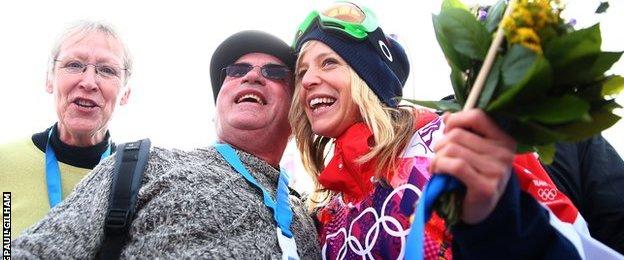 UK Sport more than doubled freestyle skiing and snowboarding funding to £4.89m up to the 2018 Games in South Korea following the success of the Team GB athletes.
Such has been the interest in freestyle, the International Ski Federation is asking the International Olympic Committee to include another discipline for 2018 - big air - where riders perform a trick off one large jump.
"It would be fantastic if big air was included and I think it will be at some stage. Can you imagine the world's top snowboarders performing their best trick off one big jump, it would be amazing," Jones said.
Jones, who underwent shoulder surgery in the summer after injuring herself two days before making Winter Olympic history, is not retiring - and has not ruled out another Winter Games - but is also realistic.
"I'm only going to compete in a couple of contests this year. I want to enjoy myself and go free riding in the mountains," she said.
Jenny Jones - Did you know?
She typically spends the off-season surfing in Cornwall or Devon.
She has had some weird and wonderful jobs to help fund her career, including inspecting cardboard in a factory and teaching fencing to children.
She has some lucky underwear and a favourite snowboard.
Her snowboarding stance is "goofy" (a "goofy" footer stands with the right foot forward; someone who is "natural footed" has the left foot forward).
She has been in several snowboarding films and describes British snowboarder Lesley McKenna as the most influential person in her career.
As a fan of extreme sports, she is hosting a new monthly BBC Radio 5 live show called Jenny Jones' Extreme, which starts on 23 October.
"I love surfing so it will be great to speak to big wave surfers to find out their experiences when they're tackling 60ft waves," she said.
"But you wouldn't get me base jumping any time soon. I love the buzz and freedom of extreme sports but that does seem one step too far!"