Elise Christie moving on from Winter Olympics disappointment
By David McDaid
BBC Olympic sports reporter
Last updated on .From the section Winter Sports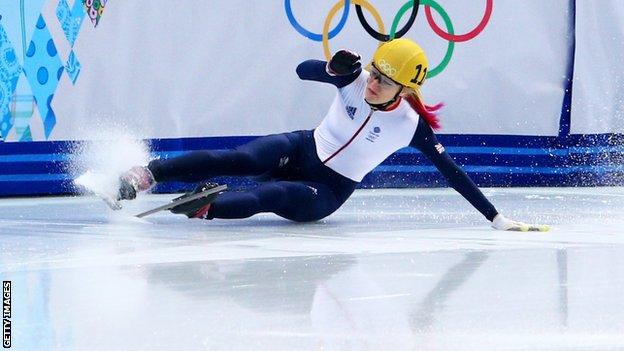 Elise Christie says her aim is to is enjoy her skating and put her Winter Olympics disappointment behind her.
The short track speed skater will race in the first World Cup event of the new season in Salt Lake City from 7-9 November.
"I have little goals this season, but this year is about enjoying myself and taking a bit of pressure off," Christie told BBC Sport.
"Hopefully by the end of the season I won't be thinking about Sochi anymore."
Christie is part of the eight-member Great Britain team who will race in the World Cup events in Salt Lake City, and then in Montreal a week later.
"I'm back in the swing of things and liking the challenge every day and seeing how much pain I can go through," she said.
"I will be spending the World Cup season focusing on my weaknesses, like racing in the pack.
"I generally sit at the back in races and come round at the end, which is only really using my strength, so I need to work on my skill level.
"My main goals are based on the next Olympics. I'm already thinking about Pyeongchang."
At the Winter Olympics in February, the 24 year-old was tipped as a serious medal contender but was effectively disqualified from all three events in which she competed.
"I was thinking 'I'm going to quit; I can't do this anymore'. I think it was a normal emotional reaction," said Christie.
"I did hit a real low and I didn't think I could carry on for four more years.
"I'm not fully over it now. I have moments where I'm on the ice and I just get emotional at times and for me that's unusual."
However, the Scot feels she is able to take positive lessons from her disappointment in Russia.
"At first I thought it was going to have broken me but it hasn't. It's made me train even harder and try and push my limits.
"Whether or not it makes me a better athlete or not I don't know, but it's definitely made me a better person.
Also racing the GB team in the USA and Canada are Charlotte Gilmartin, Jack Whelbourne, Jon Eley, Richard Shoebridge, Billy Simms, Paul Stanley and Josh Cheetham.