European Curling Championships: Scotland men open with two wins
Last updated on .From the section Winter Sports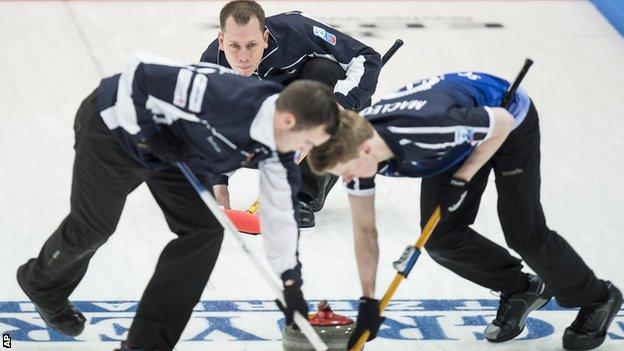 Scotland's men lead the standings with Germany and Sweden after the opening two sessions of the European Curling Championships.
The Scots opened with an 8-6 win over Norway and then beat Denmark 7-5.
Defending champions and hosts Switzerland, who Scotland face next, lost to Italy after beating Russia.
In the women's event, Eve Muirhead's rink lost 7-6 to Denmark and face Latvia on Sunday. Finland, Latvia, Russia and Sweden claimed opening wins.
Standings

Men

Women

Germany 2-0

Denmark 1-0

Scotland 2-0

Finland 1-0

Sweden 2-0

Latvia 1-0

Czech Republic 1-1

Russia 1-0

Italy 1-1

Sweden 1-0

Norway 1-1

Czech Republic 0-1

Switzerland 1-1

Estonia 0-1

Denmark 0-2

Germany 0-1

Latvia 0-2

Scotland 0-1

Russia 0-2

Switzerland 0-1