European Curling Championships: Scots women retain play-off hopes

By David McDaid
BBC Olympic sports reporter in Champery, Switzerland
Last updated on .From the section Winter Sports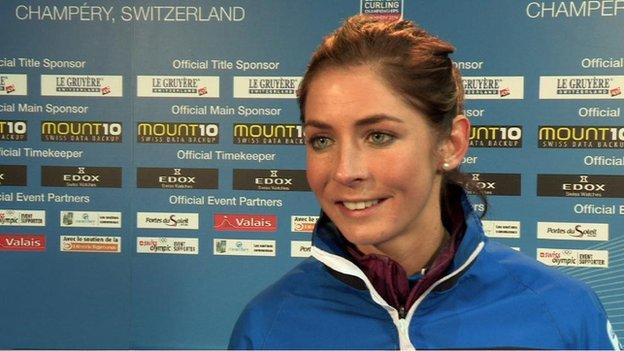 Scotland's women kept alive their hopes of a medals play-off place despite a shock defeat at the hands of Estonia at the European Curling Championships.
Having fallen 9-8 in the Estonians' first win of the tournament, the Scots came back to thrash Germany 10-2.
Scotland's men are less likely to progress after losing 6-5 to Russia after a 6-5 win over Czech Republic.
That leaves them with only three wins from seven games, while the women have won four of theirs in Switzerland.
Eve Muirhead's rink were expected to beat Estonia, who are making their debut at the top European level, and that looked to be the case going into the 10th end as they held a three-shot lead.
But a miss by Muirhead allowed the Estonians to cancel out that advantage and force an extra end.
The skip then missed the chance to win with her draw to the button but came up short to give the victory to the top-tier newcomers.
Vice-skip Anna Sloan told BBC Sport: "Really, we should've won the Estonia match, but these things happen.
"In our debrief, we knew we just had to get over it and bin it and I think we did that really well.
"The Germany win will do masses for our confidence. We're not playing badly, we just need to bring it together.
"We play Sweden next and we need to win them all now."
Unbeaten Russia lead the round-robin, with Denmark, Switzerland and the Swedes all with five wins ahead of the Scots and Finland with four apiece.
Earlier in the day, David Edwards' rink pulled off a 10th-end win against the hammer over the Czechs.
However, despite levelling from 5-1 down, the Scots were unable to see off Russia, who played a last-stone winner to put a serious dent in the Scots' chances of making the medals play-offs.
They must now beat the top two teams in the round-robin - Italy and unbeaten Sweden - in order to have any chance of progressing.
Edwards said: "I'm disappointed to have lost that game.
"I think we played better than the Russians and it was probably just one shot that cost us.
"All we're focusing on now is the next two games. A win against Sweden and a win against Italy and we'll see where we are.
"I'm confident we have enough to give them both a run for their money."
Standings

Men

P

W

L

Women

P

W

L

Sweden

7

7

0

Russia

7

7

0

Italy

7

5

2

Denmark

7

5

2

Norway

7

4

3

Switzerland

7

5

2

Russia

7

4

3

Sweden

7

5

2

Switzerland

7

4

3

Finland

7

4

3

Czech Republic

7

3

4

Scotland

7

4

3

Germany

7

3

4

Germany

7

3

4

Scotland

7

3

4

Estonia

7

1

6

Denmark

7

1

6

Latvia

7

1

6

Latvia

7

1

6

Czech Republic

7

0

7