European Curling Championships: Scots face Finland showdown

By David McDaid
BBC Olympic sports reporter in Champery, Switzerland
Last updated on .From the section Winter Sports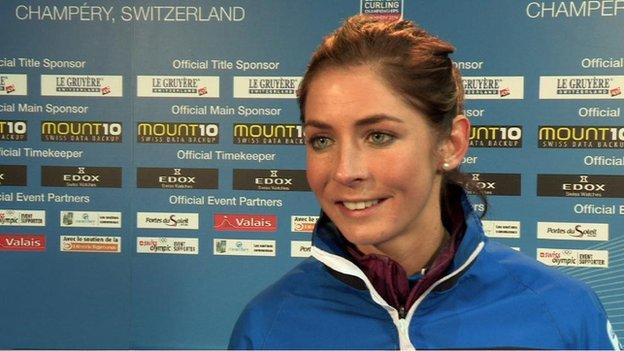 Scotland's women must win their final round-robin game at the European Curling Championships in order to make the medals play-offs.
Eve Muirhead's team made sure their fate remained in their own hands in Switzerland thanks to a tense 7-6 victory over a strong Sweden side.
Scotland's men missed out on the medals after defeats by Sweden and Italy.
They face a play-off against Germany to decide which team must play a World Championship qualifier.
Both countries finished the round-robin on three wins and six defeats.
Muirhead's rink meet Finland, who have also won five of their eight matches, on Friday, with the winner qualifying for the series of games to decide the medallists.
The Scottish skip played a perfectly-judged last stone at 6-5 down against the Swedes to score a match-wining double.
Muirhead told BBC Sport: "What a team performance. To dig in until the very last stone was great.
Scotland women's skip Eve Muirhead
"We'll really need to play well against Finland because they're having a good tournament."
"I know I played the glory shot, but it's about all eight shots being strung together over the end, so I'm really pleased with the win.
"We just need to keep the foot on the gas now and, as a team, we tend to get better as championships go on - and that's exactly what we're doing.
"We'll really need to play well against Finland because they're having a good tournament."
Russia lead the round-robin table having won all eight of their ties, with Switzerland lying second and Denmark third.
The men's rink, led by David Edwards, yet again lost narrowly, 11-10 to unbeaten Sweden and 7-5 to second-top Italy.
The first defeat ended their outside hopes of reaching the medal matches, while the second consigned them to a play-off with Germany on Thursday.
The loser must fight the winner of the B Division for their nation's spot at the 2015 World Championships.
Edwards said: "It's a massive match, but it's not the last chance saloon for us.
"We felt we got a rough deal when Germany beat us in the round-robins, so we've got a bit of a score to settle."
In the B Division, England's perfect record ended with a 7-6 reverse against Israel.
However, they will still play Finland for direct access to the B Division gold medal match.
Wales ended their B campaign in 13th overall with a 10-6 defeat by Austria.
England's women missed out on a shot at the medals after coming sixth in their group despite a final 8-6 win over Italy.
Standings

Men

P

W

L

Women

P

W

L

Sweden

9

9

0

Russia

8

8

0

Italy

9

7

2

Switzerland

8

6

2

Switzerland

9

6

3

Denmark

8

5

3

Czech Republic

9

5

4

Finland

8

5

3

Norway

9

5

4

Scotland

8

5

3

Russia

9

5

4

Sweden

8

5

3

Germany

9

3

6

Germany

8

3

5

Scotland

9

3

6

Estonia

8

2

6

Denmark

9

1

8

Latvia

8

1

7

Latvia

9

1

8

Czech Republic

8

0

8