Kaillie Humphries & Elana Meyers Taylor to make history in Canada
By Nick Hope
BBC Olympic sports reporter
Last updated on .From the section Winter Sports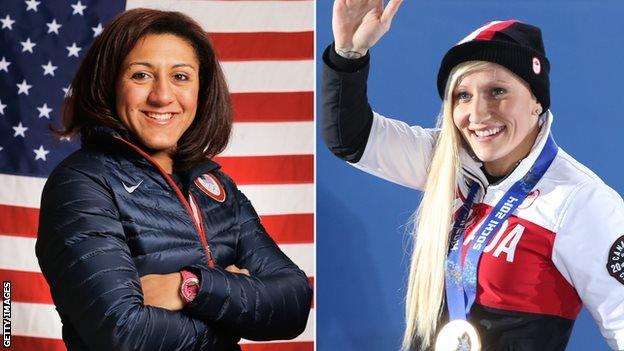 Canadian Olympic champion Kaillie Humphries and USA's Elana Meyers Taylor will become the first women to compete in a four-man bobsleigh World Cup event in Calgary, Canada, this weekend.
Women were approved to enter the competition for the first time just weeks before the start of the season.
Humphries and Meyers Taylor qualified for the World Cup circuit by competing in three different second-tier events.
"I'm excited about the opportunity," said Meyers Taylor, 30.
The schedule means the pilots - pushed by three male athletes - will have just an hour's rest between the women's two-man event and the four-person bobsleigh competitions.
"It's going to be a challenge with two races back to back - but maybe this will just show even more how resilient and tough women bobsledders are," Meyers Taylor said.
She and 29-year-old Humphries made history in November by becoming the first women to win four-man international bobsleigh medals in the North America Cup.
2014-15 Bobsleigh World Cup schedule

Calgary, Canada - 15-20 Dec

La Plagne, France - 26 Jan-1 Feb

Altenberg, Germany - 5-11 Jan
Igls, Austria - 2-8 Feb

Konigssee, Germany - 12-18 Jan

Sochi, Russia - 10-15 Feb

St. Moritz, Switzerland - 19-25 Jan
The women will be up against British Olympic pilot Lamin Deen and his four-man team, who were 12th in the season-opening World Cup in Lake Placid, USA.
British Olympic skeleton champion Lizzy Yarnold misses the event after suffering dizziness in her comeback victory last Friday.
The International Bobsleigh and Skeleton Federation ruled four-man bobsledding gender neutral in September, giving the chance for men and women to compete against each other.