Elise Christie wins short track World Cup medals
Last updated on .From the section Winter Sports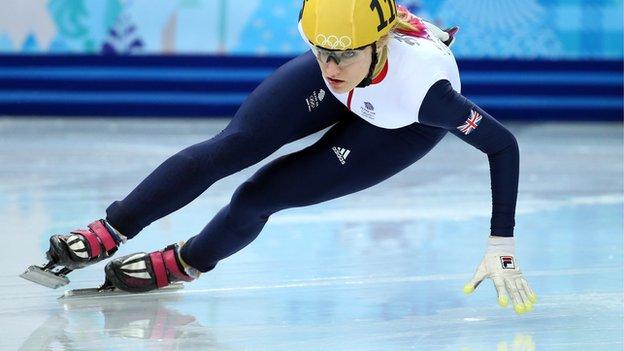 British short track speed skater Elise Christie won her first medals of the World Cup season with two bronzes in South Korea.
She finished on the podium in both the 500m and 1,000m in Seoul - a week after she fell in the 500m final in Shanghai.
They were the first World Cup medals she has won since claiming bronze in a 500m race in Moscow in November 2013.
The Scot endured a disappointing Winter Olympics in Sochi in February where she was penalised in all her events.
She tweeted after her success in Seoul: "Physically nowhere near my best battling with injuries and mental scars but managed this!"
But the 24-year-old bounced back at the World Championships a month later with a silver medal in the 500m.
There are two World Cup events remaining this season as well as the European Championships, where she will be defending her 1,000m title, in January and the World Championships in Moscow in March.
GB Short Track performance director, Stuart Horsepool said: "I was particularly impressed with her performance in the semi finals, where she skated with grit and really showed us what she is capable of. She raced with much more confidence this weekend, which shows that sending her out to Asia to compete over the last two weekends has been worthwhile."