Cool Runnings 2: Downhill Daughter - The real-life sequel
By Caroline Rigby
BBC World Service Sports reporter
Last updated on .From the section Winter Sports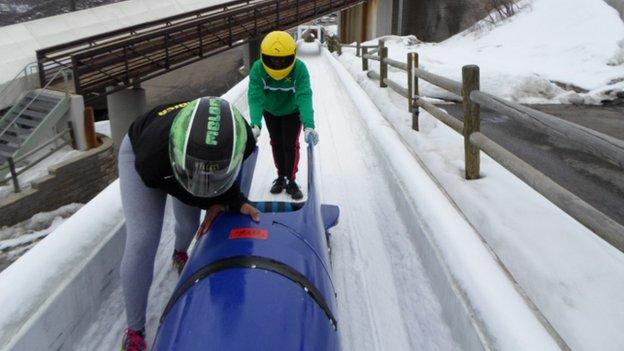 "I look forward to the day when running on ice is as easy as running on a field for Jamaicans."
"When I say I'm on the Jamaican bobsleigh team, people always say, 'Cool Runnings', and I say, 'Yeah, that's me, that's us,'" laughs NaTalia Stokes.
Hurtling down a steep, icy hill in a small cart, not dissimilar to a spruced up bath tub, isn't everyone's idea of fun. Less so, an obvious career choice for most Jamaicans.
But if you're the daughter of Nelson Christian 'Chris' Stokes and the niece of Dudley Stokes - two of the original members of the Jamaican bobsleigh team whose story was immortalised in the 1993 movie Cool Runnings - bobsleigh is in your blood.
"No one can describe to you what it's like to be a driver in a bobsleigh until you get in the sled," says NaTalia. "You seriously don't remember anything.
"It's like going on a rollercoaster and closing your eyes. But I knew from the adrenaline rush that goes through your body, I wanted to experience that over and over again. I fell in love on the first run and knew I wanted to do this for the rest of my life."
NaTalia, 19, is a member of the recently formed Jamaica women's bobsleigh team. It was created in response to the swell of interest generated from the nation's male athletes competing in the sport at the 2014 Winter Olympics in Sochi.
Yet, despite being related to two of the most famous bobsledders of all time, it was not until she began studying at college in the United States that NaTalia finally had a go.
"During my sophomore year in college, I got so fat and thought I should probably get into a sport. I said, 'Dad, what about bobsleigh?'
"He said, 'Are you sure? There are so many other things that you could do,' because he knows what it's all about; the crashes and having a really bad day at the track."
In 1988 NaTalia's father, Chris Stokes, was preparing to compete at the Summer Olympics in Seoul. He decided to take a short break to visit his brother at the Calgary Winter Olympics, where he was preparing to make history in the bobsleigh.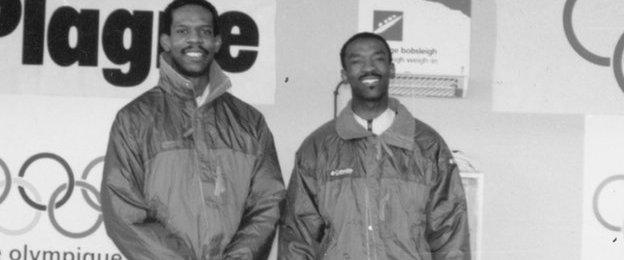 A last-minute injury left the Jamaican team one man down and Chris was roped in. He competed in his first race less than a week after setting eyes on the sled for the first time. Jamaica managed to record one of the fastest starts of any team, but that year their Olympic dreams ended in a horrendous 85mph crash.
"I thought, 'This feels different. Last time I checked you're supposed to be on the runners and now I'm on the top of my helmet.' I thought I'd missed that lesson," recalls Stokes senior.
"It was physically and emotionally difficult. All these people thought we shouldn't be there and we proved them right. But we came back eight years later and beat a lot of teams."
Chris went on to compete at four Winter Olympics and is now director of the Jamaica Bobsled Federation. Ultimately though, he is a father, and admits he felt conflicted by his daughter's choice of career.
"I have to walk a very thin line. I don't want to be the person who says it's not a sport for women, because it is. I don't want to be the father who says, 'Get a degree and get a job and start a family.'
"It's a dangerous sport and she is my only child and it's not something that I would have pushed her to do.
"The truth is that this is a dream that she has. I recognised that I can't really compromise and dissuade her dreams because of my own experiences or knowledge."
The Jamaica women are coached by former Olympic bobsledder Todd Hays, who guided the US female bobsledders to two out of the three medals on offer at the Sochi Olympics. He believes the Caribbean island could be just as successful in the sport, thanks to its sprinting pedigree.
"In bobsleigh, the start is a tremendous factor in the race. You have to be explosive and fast," he explains.
"I'd love to get some of these sprinters on a sled. If we do, it will be a game changer because the talent and speed they have in Jamaica is fantastic.
"We definitely don't want to just take part anymore. The athletes are just too good in Jamaica. The brand has value and if we can get the right sponsors involved, I think we can make a very legitimate run at a medal."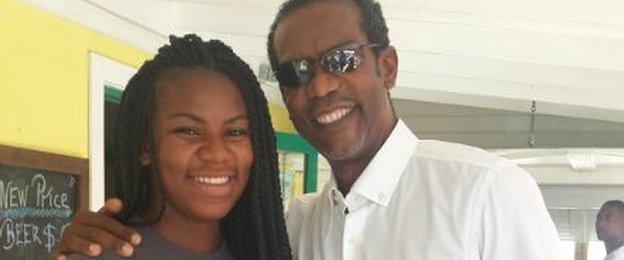 So could we see a day when Usain Bolt and Shelly-Ann Fraser-Pryce join NaTalia in the bobsleigh team? Chris Stokes believes so.
He says: "That day may be closer than you think. Our training camp is based out of the sports college where some of the nation's leading sprinters train. So we may have a couple of surprises after Rio in terms of elite athletes coming over into the sport of bobsleigh."
However, running on ice is vastly different from a track - think 'Bambi' on a hill, in winter.
"It's like seeing a world in black and white and then all of a sudden trying to see colour for the first time. A lot of these athletes have never seen a sled before or been in snow," says NaTalia.
"But once we get that down, I think we'll be unstoppable. I look forward to the day when running on ice is as easy as running on a field for us."
As a former sprinter himself, Chris knows that challenge only too well, saying: "Track and field is a bit of a primadonna sport; you walk with your spikes that weigh a couple of ounces, it's nice and warm outside, you get to lay around.
"You get into bobsleigh and it's freezing outside. You get beat up in the sled and it's not for the faint of heart. These are the sort of transitions that are required.
"So we have a pool of athletes and we intend to expose them to what it's about. And we feel that at the end of the day we will have some of the fastest athletes in the world on our bobsleigh teams."
The Jamaican bobsleigh team won many hearts at the Calgary Olympics more than a quarter of a century ago. In four years' time in the South Korean city of Pyeongchang, they plan to win medals.
"We have some excellent athletes in the programme. I believe we have a chance to do something special in terms of Olympics performance, perhaps more so with the women's programme at the moment than with the men's," adds Chris.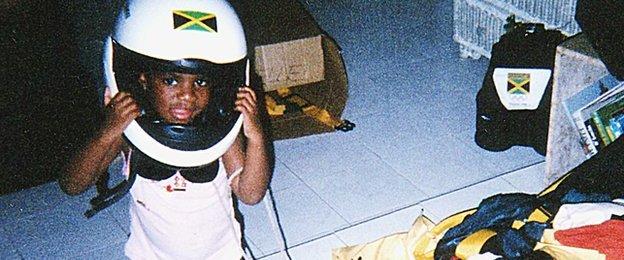 NaTalia and her team mates are already writing the next chapter in the Cool Runnings story. Disney may have sprinkled a healthy dose of Tinseltown stardust to embellish the facts, but NaTalia believes they got one character just right. A character who continues to feature heavily in the real-life sequel.
"The lady that plays the grandma reminds me so much of my grandma, because she's so strong and loves us so much and motivates us," she says. "I think they got that character spot on.
"She's just like, 'Oh Lord, why can't we have normal kids and grandchildren that just go to school and want to be lawyers or doctors? Why do we have people who want to go down a hill in a sled? Of all the things you could have chosen...'
"My grandma had to watch her son crash and she doesn't want to see that happen to me. But she's really supportive and I love her for that."