Heather Mills aims for world speed skiing record
Last updated on .From the section Winter Sports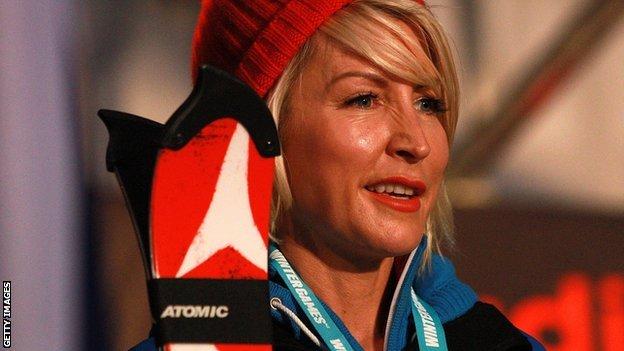 Former model Heather Mills says she wants to break the world record for speed skiing next year.
The 47-year-old was hoping for a place on the Great Britain team for the Sochi Paralympics.
However, her hopes were ended in December 2013 when the International Paralympic Committee deemed her prosthetic leg ineligible.
Mills will need to reach speeds of more than 200km/h (124.27mph) to become the fastest female disabled speed skier.
The world's fastest ever skier with a disability is Australian Michael Milton who recorded 213.65 km/h (132.76mph) in 2006 while the female able-bodied record is held by Sweden's Sanna Tidstrand at 242.59 km/h (150.74mph).
Mills, the former wife of musician Sir Paul McCartney, lost the lower half of her left leg after a collision with a police motorbike in 1993 and started her sporting career in 2011, later becoming part of the GB disability skiing team.
After her prosthetic leg was ruled out, Mills was accused of "verbally abusing" an official from the International Paralympic Committee.
She later claimed that the IPC had given her permission to compete on the equipment, a claim which they denied.
But she hopes a new prosthetic skiing leg will help her set the record.
"Skiing is a high-octane sport and I knew the risks when I first set about training" she said. "For me, though, the most frustrating thing was that my initial prosthesis only offered very limited movement which was neither natural nor comfortable and tended to hinder my performance somewhat.
"The London Prosthetic Centre have developed a prosthesis that feels like a part of me when I'm skiing and for that reason I have complete confidence when I'm on the slopes. It's what allows me to continue pushing myself to the limits, hence my next challenges."