Penny Coomes and Nick Buckland ready to emulate Torvill and Dean

By David McDaid
BBC Olympic sports reporter
Last updated on .From the section Winter Sports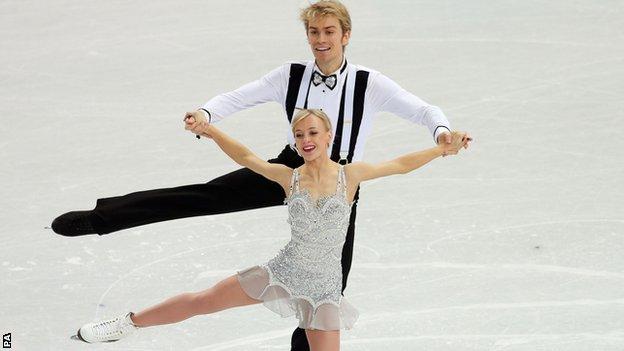 It is more than 20 years since Britain last tasted Winter Olympics medal success in ice dancing with Torvill and Dean.
Whisper it quietly but Nick Buckland and Penny Coomes could emulate the ice stars at the 2018 Winter Olympics.
This season the British pair have already won two international events and, crucially, claimed their first medal at a prestigious Grand Prix event.
That may have been "only" a bronze but it was a moment which has made them truly believe for the first time that they could be serious medal contenders at the 2018 Winter Olympics in Pyeongchang.
"We've achieved something this season that's been a real wake-up call," Buckland told BBC Sport from the couple's base in New Jersey.
"It was the fact we put competitive scores out there and were close to the guys in first and second - and we had feedback from some of the judges on how much we'd come on.
"All of a sudden we were being talked about as contenders for big things in upcoming seasons and being seen as people who could achieve a lot.
"You dream and you want to do these things. But when it actually happens it shocks you a little bit."
GB ice skating success
Winter Olympic Gold - Jeanette Altwegg (1952), John Curry (1976), Robin Cousins (1980), Jayne Torvill & Christopher Dean (1984)
Winter Olympics Bronze - Altwegg (1948), Torvill & Dean (1994)
"This year we're in contention with most people in the world and we've got some of the highest scores this season out of everybody."
The confidence that those achievements have engendered is obvious as they go into their next big competition at the European Championships in Sweden, which begin on 26 January.
And it's a much-improved mindset they possess compared to when they entered last year's event, where they took a bronze medal.
"That medal was a little bit of a surprise," said Coomes.
"Last year I went into the Euros questioning 'am I good enough?'
"This year we have a different mentality that we're just as good as everyone else."
Penny Coomes
"This season we really want to prove that we are in contention to be the top two in the world."
The improvement in the pair's performances and confidence has come about thanks to several factors.
The couple finished 10th at the Sochi Winter Olympics in 2014 and they still train in the United States, as they have for the last five years, and they are still coached by two-time Olympic champion Evgeny Platov. But there have been changes too.
"We train harder, better and smarter than ever," says Coomes.
"And we've got two of the strongest routines we've ever had so that's helped us a lot.
"But also, just the longer you're around for, the more you mature you become.
"What I've learned over the last few years is if I go into a competition knowing I've put absolutely everything into my training then I don't feel the same amount of nerves and pressure."
Add to all that working with a new fitness coach, expert choreographers, a new direction in music choice, as well as guidance from former Olympic champion Robin Cousins and the duo feel well placed to challenge at the highest level.
"The year after the Winter Olympics is a huge season to establish yourself as one of the top teams for the four years to the next Games," said Coomes.
"This season we really want to prove that we are in contention to be the top two in the world."
"And we've looked around and no one is doing anything on the ice we can't or won't do.
"We've always talked about how we want to medal in Pyeongchang but this year we've got our heads down and stopped talking about it."