Elise Christie wins European Championship title
Last updated on .From the section Winter Sports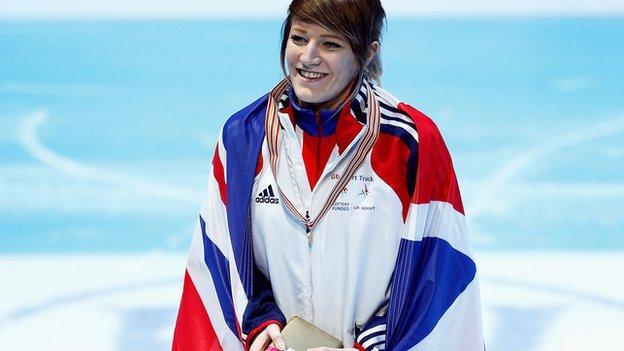 Great Britain's Elise Christie has become the European Short Track Speed Skating champion for the first time.
Christie endured a miserable 2014 Winter Olympics in Sochi, where she was penalised in all her races.
But she won the 500m and 1500m in Dordecht and took the overall title with second in the 3000m super final.
"Elise did a great job bouncing back from adversity. Smart racing to take her first overall title," said coach Jo Eley.
Christie had been favourite to add the 1000m gold to her 500m and 1500m titles in the Netherlands, having won the title last year, but she was penalised in Sunday's semi-final.
"The aim of today was to focus on the 1000m as it is my strongest distance," said Christie.
"Unfortunately I got a penalty in the semi-finals which meant I didn't make the final. I didn't let it get to me and made sure that I then turned my attention to the 3000m super final.
"When I came off the ice from the 3000m, I didn't actually realise that I had won until it showed up on the board."
On Saturday, she had faced a nervous wait after clipping favourite Arianna Fontana on the last lap of the 1500m final but the judges ruled Christie was not at fault and the result stood.
The Scot, 24, later led the 500m race from the gun to add a second gold.
She added: "I feel like I've skated really well this weekend and I will now look towards training for the next three big races."
British team-mate Charlotte Gilmartin reached two finals, finishing fourth in the 1,000m and fifth in the 1500m.
There are two World Cup events remaining this season before the World Championships, which are being held in Russia from 13 to 15 March.