Lizzy Yarnold: Returning to Sochi 'feels like coming home'
Last updated on .From the section Winter Sports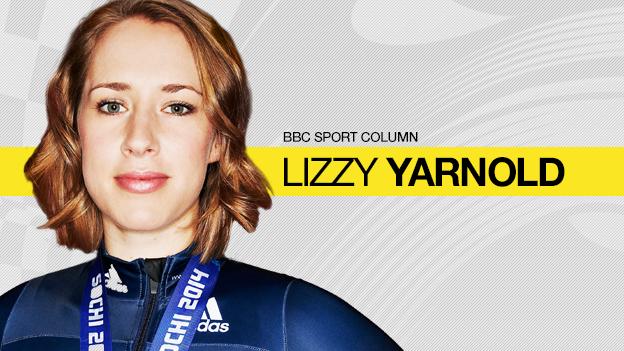 Skeleton
Venue:
Sochi
Date:
Saturday, 14 February
Start:
15:30 GMT
Coverage:
BBC Sport website
I'm back at the Olympic skeleton track in Sochi in Russia where I won gold at last year's Winter Olympics.
I'm racing again on the same date - 14 February - as when I triumphed so I'm hoping that's a good omen.
It was a special time in my life and being back here looking up towards the track at Sanki Sliding Centre where it all happened is quite surreal.
This year though it's the final race on our World Cup circuit and nothing much has changed here. Snow is falling and covering the lower lying mountains and the music is still blaring out from the bars of Rosa Khutor.
The only things that are missing are the thousands of people who came to watch the Games 12 months ago and the bright Winter Olympic branding that has given way to local shops opening up for the snowboarders and skiers who venture out this far.
So no fanfare this time around, I just have to get on and race, do the same preparations as before and get the job done.
But I am a different athlete this time around, a different person even. I feel older, a little wiser and even a bit braver - which helps when you feel like the one everyone is aiming to beat.
The team around me has changed too - people have moved on and I'm lucky to have another great group of people who support me and help make me as fast as I can be on the track.
The morning before the Olympic final last year I went and sat at the top of the hill overlooking the Athletes' Village with some of my trusted team.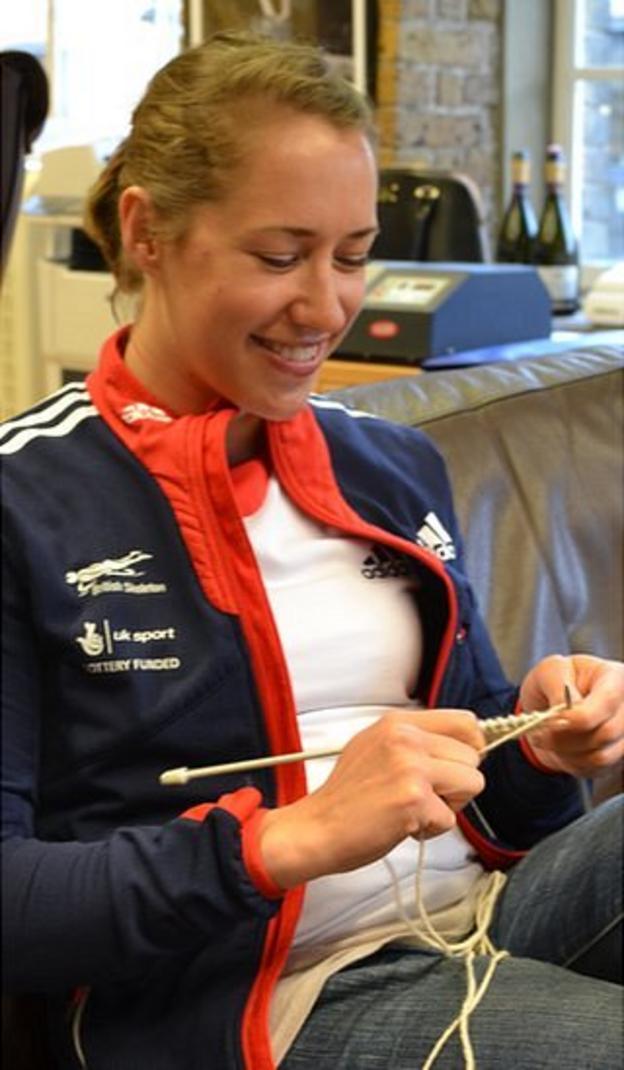 I have such fond memories of that quiet time before the craziness of the final race.
I made sure I told the media afterwards that we took a healthy picnic for our breakfast to set me up for the race ahead. We did in fact take a load of yummy cakes and treats and I like to think that moment of indulgence helped me give it my all later on that day!
I don't think my coach Eric Bernotas will let me indulge in the same way again this weekend unfortunately.
It is my final race before the World Championships in March, the only title to allude me so far.
I had secretly hoped to defend my overall World Cup title this year, however missing the Calgary race early in the season has set me back.
I'm 53 points behind leader Janine Flock, which is probably too many to make up now - especially competing against such an opportunistic group of World Cup rookies!
The travelling circus that is the skeleton World Cup tour is coming to an end. All of the athletes from every nation have been jumping on planes and buses, sleds coming with us, some serious excess baggage, and our lives packed up and moved on from track to track.
When I'm not sliding or training in the gym I like to get away from the sport. This involves a lot of resting, knitting and watching box sets - Suits has been a favourite this season.
I wasn't sure how I would feel coming back to Sochi, I thought the race would be pretty ordinary and post-Olympics it would have lost its special feel for me.
However, it feels like coming home, or like an adult returning to their primary school with fond memories where they learnt so much.
My long-term plans are still to be decided. After Sochi I couldn't even think about Pyeongchang in 2018. Four years seemed so far away, so many more gym sessions and tears.
But I've had a successful season, four wins out of six races, which has given me more and more confidence and above all, shows that I'm still enjoying it.
If you want to give skeleton a go, take a look at the Get Inspired activity guide.