Ice hockey: Braehead's Ryan Finnerty targets Elite title next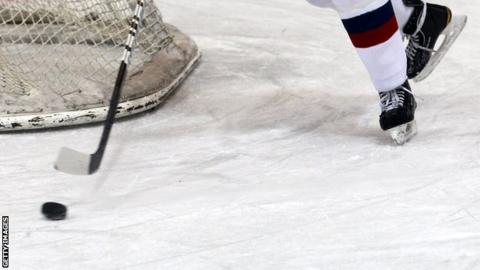 Braehead Clan coach Ryan Finnerty was delighted to win the Gardiner Conference and is now targeting the Elite League title.
There are only eight games to go in the Elite League, with Braehead three points clear at the top.
And Finnerty wants to win the league on his own terms rather than have to rely on other teams as the race hots up.
"The Gardiner Conference trophy was one we let slip last year so it was on our agenda," he said.
"I'm pleased we have it in the bag.
"The Conference stuff is behind us now and we move on to the league title, with only eight games to go.
"We do take a peek over our shoulder at what's happening elsewhere and I would be lying if I said we didn't.
"It's all about controlling our own destiny and we certainly don't want to be in a situation where we have to rely on other teams to help us out."
What is the Gardiner Conference?
The 10 teams in the Elite Ice Hockey League are split in to the Gardiner Conference and the Erhardt Conference
It comprises Braehead Clan, Fife Flyers, Edinburgh Capitals, Dundee Stars and Hull Stingrays
It takes its name from Scots-born former NHL goalie Charlie Gardiner
Winning the Gardiner Conference gives Braehead a top seeding in the play-offs in March
Despite suspensions handed to key defencemen Chris Frank (six games) and Zack Fitzgerald (three), Clan clinched the Conference on Saturday with a 3-0 home win over Dundee Stars.
Stefan Meyer and two from Leigh Salters got the party started in front of over 3,200 fans at Braehead Arena as the Stars struggled to make any impact on the game.
Sunday's reverse fixture on Tayside ended with another shutout for Clan, winning 5-0 over the bottom of the table, who are out of play-off reckoning bar the shouting.
Derek Roehl, Lee Esders, Matt Keith, Matt Haywood and Salters were all on target as netminder Kyle Jones kept his ninth shutout of the season - his four against the Stars.
Coach Finnerty has backed him to be among the contenders when it comes to player of the year honours.
He added: "I don't what else 'Jonesy' has to do to be considered for any player of the year shouts. He's been a consistent player for us all season.
"He's finally getting the praise he should have been from day one and has been a rock for us. Kyle Jones is a pleasure to coach and a great guy to have in your team."
It was a four-point weekend for Edinburgh Capitals also, who won 6-4 away at Belfast Giants on Saturday then edged past Hull Stingrays 5-4 after penalty shots at home on Sunday.
Nathan Robinson's opener for Belfast was overturned by Rene Jarolin then two from Daniel Naslund before Mark Garside pulled one back for the home team.
Greg Collins made it 4-2 for the Capitals, but Robinson scored his second to cut the lead to one again, only for Richard Hartmann to put the Caps 5-3 up.
Jarolin sealed the points late, late on even though Garside notched his second, which proved to be nothing more than a consolation.
The Murrayfield followed it up with a goal fest, which began with Stingrays' Jordan Mayer being cancelled out by Rix before Riley Emmerson put the home side ahead.
Carl Lauzon and Will Frederick put the visitors 3-2 up before Jarolin and Emmerson swung the match back in Edinburgh's favour.
Frederick levelled for Hull early in the third, but the game was tied at 4-4, taking the contest into overtime then penalty shots, where Rix struck the winner.
Meanwhile, it was another frustrating weekend for Fife Flyers, who performed well over both games, but only had two points to show for it.
They romped to a comfortable 5-0 win over Hull Stingrays in Kirkcaldy on Saturday with netminder Kevin Regan picking up a rare shutout.
Two from Matt Reber and Scott Fleming along with a marker by Jordan Fulton kept the points in the kingdom on Saturday night.
But despite a creditable display at Cardiff Devils on Sunday, they returned home after a 3-1 defeat to the Welsh side.
Joey Haddad struck early for Andrew Lord's side however Jordan Fulton got them back on level terms.
Doug Clarkson restored the Devils' lead in the second period with Mark Richardson finishing the Kirkcaldy men off late on with an empty net goal.
Weekend results
Saturday
Belfast Giants 4-6 Edinburgh Capitals
Braehead Clan 3-0 Dundee Stars
Fife Flyers 5-0 Hull Stingrays
Sunday
Cardiff Devils 3-1 Fife Flyers
Dundee Stars 0-5 Braehead Clan
Edinburgh Capitals 5-4 Hull Stingrays (PS)