Vanessa-Mae bids to overturn skiing ban at CAS hearing

By Nick Hope
BBC Olympic sports reporter
Last updated on .From the section Winter Sports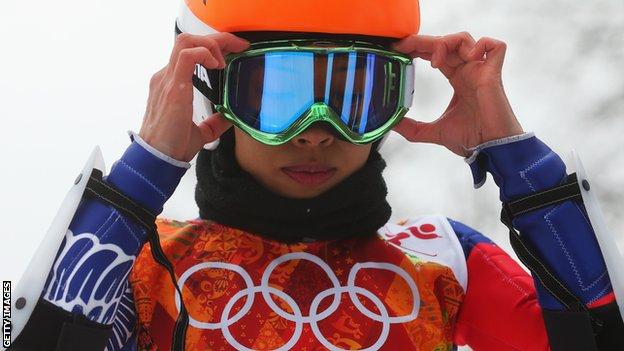 Violinist Vanessa-Mae will attempt to overturn her four-year skiing ban at the Court of Arbitration for Sport (Cas) in Switzerland on Tuesday.
The International Ski Federation (FIS) imposed the sanction in November for her role in "manipulating" results to qualify for the 2014 Winter Olympics.
The Singapore-born Briton, 36, competed in Sochi for her father's nation, Thailand, using his surname, Vanakorn.
Her management say she wants to clear her name and resume skiing.
Vanessa-Mae and five officials were punished following an investigation into four races, all held in Slovenia, just before the end of the Olympic qualifying period in January last year.
At the Games, she finished 67th and last in the Giant Slalom, more than 50 seconds slower than Slovenian race winner Tina Maze and 11 seconds behind the 66th-placed competitor.
Some of the findings of the FIS investigation:
The results of two giant slalom races in Krvavec, Slovenia on 19 January included a competitor who was not present at, and did not participate in the competitions

Another competitor was placed second in one race despite the fact she fell. Her time is understood to have been adjusted afterwards by more than 10 seconds

A previously retired competitor with the best FIS points in the competition took part for the sole purpose of lowering the penalty to the benefit of the participants in the races

The weather conditions were so bad that no regular race could be held and "any comparable competition in Slovenia would have been cancelled" according to the competition referee
Vanessa-Mae's management confirmed to the BBC that they had hoped the Cas hearing would be open to the public.
However, it is understood the FIS opted to keep it behind closed doors.