Curling: Tony Zummack to lead Scots and British programmes
Last updated on .From the section Winter Sports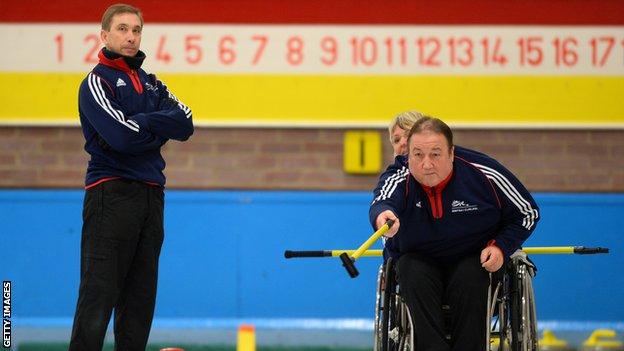 Tony Zummack has been appointed to lead the Scottish and British curling programmes up to and beyond the 2018 Pyeongchang Winter Olympics.
The 47-year-old Canadian was formerly the wheelchair head coach and helped guide Aileen Neilson's rink to bronze at last year's Sochi Paralympic Games.
He said of his new role: "I'm really pleased to become head of coaching.
"The sport's growing. I look forward to being part of the team who bring more success for Team Scotland and Team GB."
And the former ice hockey player and curler from Regina added: "I can't wait to begin working with the juniors in the Foundation programme and the performance athletes on the Podium programme at such an exciting juncture for curling in Scotland and the UK."
The Scottish and British Curling programmes are delivered at the sportscotland institute of sport through a partnership with British Curling, UK Sport, and Royal Caledonian Curling Club.
At the Sochi Olympic and Paralympic Games, the men won silver, while the women and wheelchair teams both earned bronze medals, which was the first time all three teams have succeeded in winning medals in the same Games cycle.
Graeme Thompson, performance director of the Scottish and British performance programmes, said the goal was to establish "world-class coaches alongside world-class athletes".
He continued: "This new post is designed to concentrate on performance coaching. It is a very exciting time for curling in this country and we will take every opportunity to help the sport grow and continue delivering medals on the world stage."