Vanessa-Mae: Skier 'pleased' to have ban overturned
Last updated on .From the section Winter Sports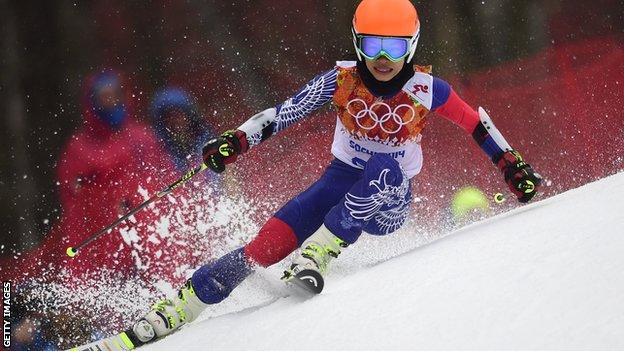 Vanessa-Mae says she is happy to have "had the guts to stand up" to the International Skiing Federation (FIS) after her four-year ban was overturned.
The 36-year-old Thailand skier was suspended in November after results were manipulated to help her qualify for the 2014 Sochi Winter Olympics.
But the Court of Arbitration for Sport (Cas) said there was no direct evidence to implicate her in the fixing.
"I am pleased to have won," the professional violinist said.
Vanessa-Mae, a British citizen, competed in Sochi for her father's native country under the name Vanessa Vanakorn. She finished in 67th place in the giant slalom, although that result will not stand.
Violinist Vanessa
Vanessa-Mae achieved several million album sales from playing the violin and was the wealthiest young entertainer in the UK in 2006 at £32m
The Cas panel said "a number of irregularities" occurred in the "organisation and management" of the four races which raised Vanessa-Mae's racer status.
Five officials involved in the qualifying event were banned by the FIS.
"I was shocked and disturbed by FIS's behaviour and bullying," she said. "Cas took some time but, in the end, I am content that it saw there was no way to side with FIS in accusing me of any manipulation or corruption.
"FIS itself acted against the values of sportsmanship that it was claiming to uphold. FIS has caused me so much damage.
"I may not be the bravest skier but I am happy that I had the guts to stand up to FIS, exposing its sham investigation."
Vanessa-Mae is now free to try to qualify for the 2018 Olympics in Pyeongchang, South Korea.