Ice hockey: 'We've turned a corner,' says Dundee Stars boss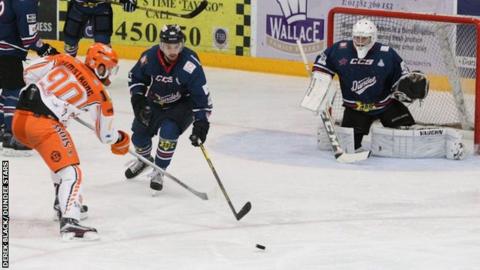 Dundee Stars head coach Marc LeFebvre has urged his team to maintain their promising Elite League form.
The Stars climbed off the foot of the table with Friday's penalty shots win over Manchester Storm before losing to Sheffield Steelers on Sunday, again on penalties.
Dundee have now taken six points from a possible eight in their last four league games.
"We've definitely turned a corner, I feel," said LeFebvre.
"We showed some resilience coming from behind on Friday then pushed a really good Sheffield team all the way.
"The guys are battling hard and we've found a way to score goals, but we have to keep this up.
"It can't be two weeks on and two weeks off. The key to surviving in this league is finding a way to get points and we're doing that.
The Stars travelled to take on the Storm on Friday, with Kevin Hart opening the scoring for the visitors, before Jack Prince and Matt Bissonnette turned the game in Manchester's favour.
Scott Brannon struck to take the game beyond regulation time, where Mikael Lidhammar got the decisive penalty shot to complete the job in a 3-2 victory.
They were on home ice to face Sheffield Steelers on Sunday, a week after recording an amazing 4-0 victory over the league champions.
Brett Switzer's opener was turned around by Mike Ratchuk and Zack Fitzgerald, with Hart equalising before John Armstrong and Switzer's second tied the game at 3-3.
Colton Fretter and Justin Faryna traded goals taking the contest into overtime, then penalty shots, where Andreas Valdix sealed an absorbing encounter 5-4 for the Steelers.
Fife Flyers had something of a mixed weekend as the misery of a 4-0 drubbing at Belfast Giants on Friday was eased by a 4-2 home win over Edinburgh Capitals a day later.
Goals from Blair Riley, Colin Shields, Brandon Benedict and Ryan Martinelli gave the Giants victory over Todd Dutiaume's side in Northern Ireland.
But the Flyers returned to home ice on Saturday and got two big Gardiner Conference points by beating the Caps in a tight contest.
Brendan Brooks and Sebastien Thinel put Flyers two up with Mike D'Orazio pulling one back. Ric Jackman added a third, with Karel Hromas hauling Edinburgh within one again.
However, Ryan Dingle made sure of the points with an empty net finish as Fife took Sunday off after two tough nights.
Edinburgh went home on Sunday to face Belfast in their final Challenge Cup tie and their fourth place finish in Group A was confirmed as they lost 6-2 to the section winners.
David Rutherford's opener was cancelled out by Pavel Vorobyev before Michael Quesnele and Steve Saviano put the Giants 3-1 up.
Jacob Johnston clawed another back for Edinburgh, but James Desmarais breached the Caps rearguard twice, with Jonathan Boxill adding Belfast's sixth for good measure.
Braehead Clan returned to action having had last weekend off and began four weeks of away games on Saturday with a comfortable 5-2 win at Manchester Storm.
With Braehead Arena out of use due to other sporting events this month, the Clan made the most of their travels as Kyle Wharton put them ahead, but Storm's Omar Pacha equalised shortly after.
Matt Haywood, two from Alex Leavitt and one from Scott Pitt sealed the game, although Cody Cartier pulled one back with a finish near the end.
From there, they headed to Coventry Blaze and were on the verge of at least a point in the Skydome when a late winner 20 seconds from time killed them off.
Liam Stewart's opener was cancelled out by Pitt before Matt Beca saw his goal for the Clan levelled by former Braehead favourite Ben Davies.
Overtime looked on the horizon for both teams until Coventry captain Jordan Pietrus nicked victory for them with only 20 seconds left on the clock to leave Ryan Finnerty and his men shattered.