2018 Winter Olympics: Tonga flagbearer Pita Taufatofua keen to compete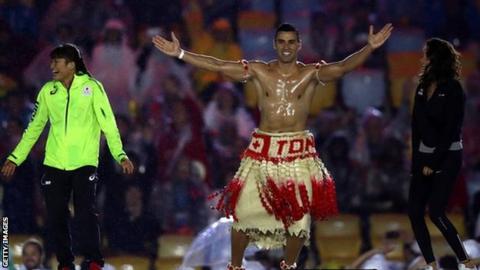 Pita Taufatofua, the taekwondo fighter who carried Tonga's flag at the opening ceremony of the Rio Olympics, says he wants to compete at the 2018 Winter Olympics in cross-country skiing.
Having carried his country's flag while topless and covered in oil, Taufatofua, 33, lost in the first round in Brazil.
"I'm going to be taking my Olympic dream one step further," he said.
"First I have to qualify but my goal is to let people see that if I can do it, they can do it."
Tonga is a South Pacific country made up of more than 170 islands. Average year-round temperatures range from 24-29C.
Bruno Banani became the nation's first Winter Olympian when he finished 32nd out of 39 competitors in the luge at the 2014 Games in Sochi.
The next Winter Olympics will be held in the South Korean city of Pyeongchang from 9-25 February 2018.