Lizzy Yarnold: Olympic skeleton champion diagnosed with vestibular disorder

By David McDaid
BBC Olympic sports reporter
Last updated on .From the section Winter Sports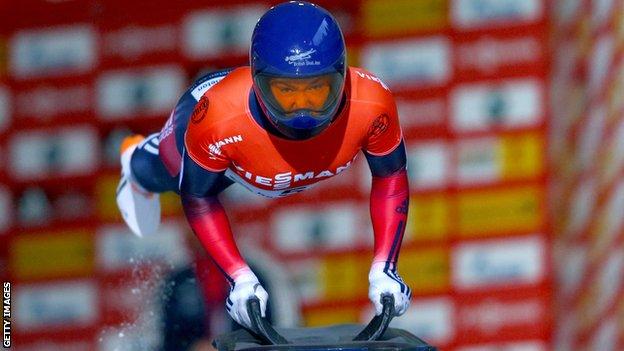 Britain's Olympic skeleton champion Lizzy Yarnold says she wants to "compete in every race" despite suffering from dizzy spells.
The 28-year-old has been diagnosed with a vestibular disorder affecting the inner ear.
She said the problem, which she has suffered from for several years, can affect her at any time.
"I've seen the best specialist and my team knows what's going on and how to recover," she told BBC Sport.
"I absolutely have the will to compete in every race regardless of those issues."
Yarnold, who won gold at Sochi 2014, is aiming to become the first Winter Olympic champion to defend a skeleton title at Pyeongchang 2018.
Starting in November, there are eight World Cups before the Winter Olympics begins on 9 February.
She said the condition does not pose a threat to her career, despite racers reaching speeds of up to 90 miles per hour.
"The condition I have is more like a travel sickness," she said. "When I'm going down the track sometimes I can get disorientated."
Results in the World Cups form part of the selection process for the Great Britain team for Pyeongchang.
On Thursday, 17 national anti-doping agencies (Nados) called for Russia to be banned from the Pyeongchang Games.
The Nados, which include the UK and US anti-doping agencies, said Russia must be punished "for proven corruption" at Sochi and "continuing failure in its obligations to clean sport".
Yarnold said: "I have always said that anyone found doping should have the harshest sanctions put against them.
"I really look forward to competing in my second Olympic Games and I want to do so with the mindset that I'm competing against a level playing field.
"The decision needs to be made by the International Olympic Committee and, as an athlete, all I can do is keep talking about the integrity of clean sport."