Winter Olympics 2018: British Bobsleigh to withdraw funding for women's team
By Dan Roan and Nick Hope
BBC sports editor and BBC Olympic sports reporter
Last updated on .From the section Winter Sports
British Bobsleigh is set to withdraw funding from its women's team - just five months before the Winter Olympics - BBC Sport has learned.
Mica McNeill - the top female driver - said she was "gutted and shocked" to be told by bosses there was no money left to fund her because of "an overspend".
The crisis-hit British Bobsleigh and Skeleton Association (BBSA) is the country's best-funded winter sport governing body, and intends to continue supporting three men's teams on its performance programme.
But it is now uncertain whether Team GB will be represented in the women's bobsleigh competition.
In a statement, the BBSA said: "The GB Bobsleigh programme is currently focusing resources on winning medals at the 2018 Winter Olympics in Pyeongchang.
"We are actively seeking commercial funding to further support our world class programme and we will continue to do so."
"Gutted"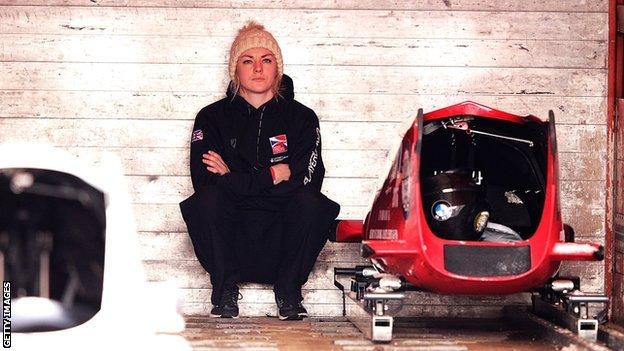 "I was absolutely gutted" said McNeill, who won gold at the junior world championships earlier this year.
"We met the British Olympic Association qualifying standard to get to the Winter Games, but now there's no money available for us in the programme.
"With the new season just around the corner [in November] it's really disappointing because we're left with a month before we'd look to be on ice and get the experience we need," she added.
"The federation said that they're struggling with funding at the moment.
"I was really unhappy and thought, 'that's not a good enough explanation'. I said 'why are we in this situation?', and there's been an overspend on the budget, and there's nothing left over for us women.
"I know that bobsleigh is an expensive sport but I just am really disappointed that it has come to this. They tried to tell us it was because we weren't medal potential but I said 'you're funding three men's crews!'
"I said, 'why don't you just be honest and say you're not funding us because there's no money?', and they said 'yes, it's because there's no money - if there was we'd be funding you'.
"We know the potential in this women's squad. I'm only 23 and have another Olympic cycle or two in me and if this season is a miss, this will ruin my whole career and we'll take a massive step back when we are in such an upward trajectory with progress."
"Shock"
Even though McNeill has met the Olympic qualifying standard, in order to compete in Pyeongchang, she and the athletes vying to be her partner need to be competing this season to gain a world ranking.
She and her female colleagues are now hoping to raise around £30,000 to fund themselves. The BBC understands the BBSA believes their male colleagues represent better medal prospects, and that additional expenditure in the build-up to the Olympics means it may not now be able to afford a women's team.
"We're trying to remain positive, but it was a big shock" McNeill said.
"We put hard work and time into this. People have given up jobs and made sacrifices, and to find out it's not our fault that we're not going, it's really gutting for everyone.
"It's a very uncertain time. I don't have a job to fall back on because I've put everything I have into this sport, as have the other girls.
"A lot of people are about to be let down. It's people's dreams, and for the mistake to happen in Olympic year it is gutting."
Controversy
The BBSA has been mired in controversy in recent months. Despite receiving £10m of public funding in the four-year cycle to Pyeongchang 2018, UK Sport cut its support by £50,000 this summer after the BBC revealed a group of elite athletes complained of a "toxic atmosphere" in the sport.
An independent review was launched into allegations of bullying, racism and sexism.
In the last month, both performance director Gary Anderson and head coach Dominik Scherrer have stepped down. There is no suggestion of any wrongdoing by either.
"It has been difficult for all the athletes" said McNeill.
"From the outside it looks like a mess, but everyone is still giving it their all and training just as hard and still has their eye on the prize, and I believe the staff that are left can pull it back and put it back together."
Team GB's team of Paula Walker and Rebekah Wilson finished 12th in the women's bobsleigh at the Sochi Games in 2014.