Lizzy Yarnold: Skeleton Olympic champion is 'better athlete' for Pyeongchang 2018

By David McDaid
BBC Olympic sports reporter
Last updated on .From the section Winter Sports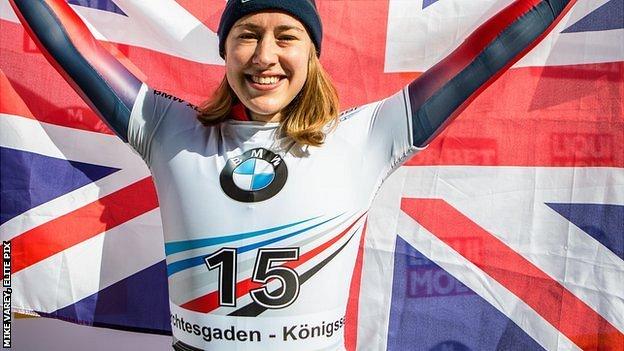 Bobsleigh & Skeleton World Cup
Venue:
Lake Placid, USA
Dates:
5-10 November
Coverage:
Watch live across the BBC Red Button Connected TV, the BBC Sport website and mobile app.
Lizzy Yarnold believes she is a better skeleton athlete now than four years ago as she aims to become the first Briton to defend a Winter Olympic title.
She heads to Pyeongchang 2018 in February feeling better placed physically and especially mentally - which she puts down to taking a break after Sochi 2014 to plan a wedding and make lampshades among other things.
"I hate cliches about being four years older and more experienced," said Yarnold, 29, who is aiming to become the first athlete to retain an Olympic skeleton title.
"But I understand myself a lot more now.
"Physically I'm a bit faster and stronger than before Sochi.
"But mentally is the biggest difference. I know what makes me tick.
"I know how to motivate myself quicker and better and I'm a much better athlete."
During her time away from her sport, she planned her wedding to partner James, moved house from Bath to Portsmouth, did a book-keeping course and took up lampshade-making.
"My time out was really important in order to be in this position going into Pyeongchang," she said.
"I knew I needed a break as I was mentally and physically exhausted. I wasn't sure I'd be able to carry on to Pyeongchang without a break.
"Now I've come back into the difficult and exhausting competition environment as a more mature athlete.
"Having had time away, I've remembered who I am as a person outside of skeleton and I understand my body and my mind."
She also now understands what has been causing the dizziness she has experienced on and off for the past few years.
This summer she was told by medial specialists that she had damage to the inner ear, or vestibular issues, leading to motion-induced disorientation.
It does not sound like an ideal condition to have to deal with if it kicks in while hurtling down a skeleton run at forces of up to 5G.
"It's not something I'm worried about," said Yarnold, who provided a pithy "not at all" when asked if there was any suggestion that it was career-limiting.
"When I'm going down the track sometimes I can get disorientated.
"But, I and my team know what's going on and how to recover - and to compete still.
"I absolutely have the will to compete in every race regardless of those issues."
Although the specific trigger for the dizzy spells is not yet known, what is clear is that Yarnold's single-minded determination remains undimmed.
She describes her return season last year as "up and down" although it ended with a creditable bronze medal at the World Championships.
But her focus has been on her chance to make British Winter Olympic history by retaining her title in South Korea in February.
"That's the goal that's kept me going for the last few years," she said.
"I'm only driven by that race. That's what gets me out of bed every morning.
"I can't peak for every performance and I have to remind myself that the Olympics is the big goal.
"Every other competition and all the training is to help me be better for February."
Name any skeleton run in the world and she will probably take you on a virtual journey at 80 miles per hour.
She has studied and visualised each course ad infinitum; learned every curve, every possible line, every dip and every crest.
It is the sort of meticulous diligence and thirst for knowledge that has helped her to Olympic, world and European titles.
"I haven't changed the intensity of the way I train and my nature is still to learn every course inside out," she said.
"But another thing I've learned is to really enjoy sport and I'm so excited for this season."